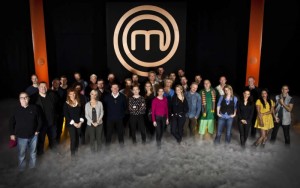 Last night the Danish TV viewers saw 2012 Danish finalist Suriya secure herself a place in the quarterfinal of Masterchef Denmark. Former double participant Annette Heick was close to making it as well, but due to too little sauce she was out.
This week in Masterchef Denmark six well known Danes were competing for two tickets to the quarterfinal. Both Suriya, who participated in this year's Dansk Melodi Grand Prix with the song Forever I B Young and Annette Heick, who sang Du Er Musikken I Mit Liv in the 1991 national final and in 2007 was back singing Copenhagen Airport, managed all through the week to impress the judges.
Right from the start Suriya put herself in the leading seat winning advantages and impressing the professionnel cooks with food like a Malaysian rice dish and Vietnamese spring rolls. Annette Heick managed to get through each day with more traditional Danish food and several times she pointed out that her speciality had to be sauce as she is out of a family where sauce almost was the most important thing on the dinner table. Therefore it also came as a surprise that it, at the end, was the sauce that kicked her out of the programme. Last night it was between her and Member of Parliament Peter Christensen. Annette made too little sauce and Peter's potatoes were raw. The judges were in doubt who of them should get the last ticket to the quarterfinal, but gave Peter the advantage as he was better at selling his dish.
Still left to fight for a quarterfinal ticket are Jacob Sveistrup, who represented Denmark at the 2005 Eurovision Song Contest with the song Talking To You and Morten Lindberg aka Master Fatman, who participated in the Dansk Melodi in 1995 and 1996.