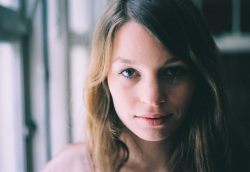 The first song to be chosen for Düsseldorf was from Switzerland, back in mid-December.  After all the waiting, would Anna Rossinelli be able to recreate her winning formula some 4½ months on?
Switzerland was last in a Saturday night final in 2006.  There have been some valiant and innovative attempts since then, but not enough to trouble the people of Europe to vote for them.
Anna today rehearsed in costume, which was a knee-length sparkling red dress.  Her cohorts on stage are two guys playing the double bass, ukelele and guitar that feature in her preview video. They were in suits.  After the slick choreography of Russia, this is almost a breath of fresh air, and you can't help but smile at this gentle song with country overtones.
The backdrop complements the song well, with sparkling clouds and suns.  We were also treated to special effects.  Would this be fire, or fireworks perhaps?  No.  For a song like this the only thing they could use are bubbles.  And they seem to work too, although bubbles are at the whim of any flow of air so could be a hindrance next week.
Anna was later seen having an animated conversation just outside the venue.  But she seemed happy with how things had gone.
Maybe we will see Switzerland on stage on Saturday 14 May after all.