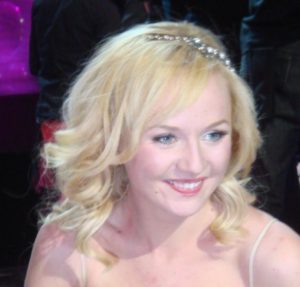 After four semi finals and a second chance heat we now know that it is Anna Bergendahl that will represent Sweden in Oslo.
This is the ten acts that was fighting to be the one representing Sweden in Oslo:
1. Darin – You're Out Of My Life        
Composers: Henrik Janson, Tony Nilsson                      
2. Pernilla Wahlgren – Jag vill om du vågar          
Composers: Pontus Assarsson, Daniel Barkman, Jörgen Ringqvist
3. Andreas Johnson – We Can Work It Out          
Composers: Andreas Johnson, Bobby Ljunggren, Marcos Ubeda            
4.Timoteij – Kom          
Composers: Niclas Arn, Gustav Eurén, Karl Eurén          
5. Peter Jöback – Hollow        
Composers: Anders Hansson, Fredrik Kempe                
6. Ola – Unstoppable
Composers: Alexander Kronlund, Hanif Sabzevari, Dimitri Stassos, Ola Svensson
7. Jessica Andersson – I Did It For Love
Composers: Kristian Wejshag, Lars "Dille" Diedricson      
8. Salem Al Fakir – Keep On Walking
Composers: Salem Al Fakir
9. Anna Bergendahl – This Is My Life        
Composers: Bobby Ljunggren, Kristian Lagerström
10. Erik Saade – Manboy          
Composers: Fredrik Kempe, Peter Boström
Anna tells the reporters after her victory that she has not yet understood what has happened. She has to let this sink in for a while. But of course she was really really happy. As the reporters got to work, Anna was of to prepare for the after party.
Statistics:
Sweden has won Eurovision Song Contest 4 times:
1974 Abba – Waterloo
1984 Herreys – Diggiloo Diggiley
1991 Carola – Fångad av en stormvind
1999 Charlotte Nilsson (Perrelli) – Take me to your heaven
Since year 2004 when the system with semi finals was introduced we have had a hard time competing with the other countries participating in Eurovision Song Contest. We've finished:
2004: 6 th place in the final ( Lena Philipsson – It hurts)
2005: 19 th place in the final (Martin Stenmarck – Las Vegas)
2006: 5 th place in the final ( Carola – Invincible)
2007: 18 th place in the final ( The Ark – The worrying kind)
2008: 18 th place in the final ( Charlotte Perrelli – Hero)
2009: 21 th place in the final ( Malena Ernman – La voix)