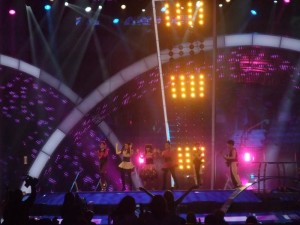 Anja Veterova gave a great performance at the 2nd rehearsal for FYR Macedonia.  Anja reached a very high note with her scream towards the end of the song.
Anja Veterova was accompanied on stage by 2 girls and 3 boys.  She gave a great and energetic show for her song, Eooo, Eooo.
Anja's song is about the 'magic of music' and was written by Anja herself with the arrangement by Darko Dimitrov and Elena Risteska.  Elena represented FYR Macedonia at the 2006 Eurovision Song Contest in Athens.  Elena is in Minsk to support and coach Anja.
One of the dancers with Anja is Gogo.  His sister Bisera was a dancer last year with Sara Markoska at the 2009 Junior Eurovision Song Contest in Kiev.