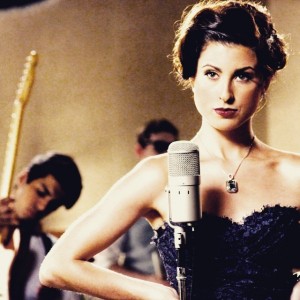 Tonight in Hanover the German entry for Vienna has been decided followed by an unexpected twist. Andreas Kümmert with the song Heart of Stone was voted winner but on hearing this he handed victory to runner up Ann Sophie who played out the show and will be going to Vienna with the song Black Smoke.
The Songs
First round:
01. Mrs. Greenbird – Shine, Shine, Shine
These X Factor winners are performing back to back the lead singers, female in pink, with English vocals, is then side by side with her co-performer and he is playing acoustic guitar. The lyrics are very whimsical and sweet natured. She has a very sweet soft lilt to her voice, which is rather indearing and very warming. The track doesn't have any bells and whistles but is very easy listening. I'm quite sure this isn't strong enough to go to Vienna. They are supported by a four piece band, drums, two guitars and an accordion. A good opener for the show.
02. Alexa Feser – Glück
Thumpy beats start and remains throughout this slick and mood-some track. Alexa is seated behind an upright piano and is wearing sequined metallic shoulder lapels and a suit of black as she performs Glück. I'm reminded of chants and a holler of or the song Glow by UK X Factor star Ella Henderson. For the second verse she moves forward and engages with the audience, leaving the piano behind. She is supported by a keyboard player, guitars, drums and two backing vocalists. An accomplished and strong performance by Ms Feser. Could be in with a shot.
03. Faun – Hörst du die Trommeln
Ryan Dolan's drums from Malmö 2013 have been found safe and well in Germany tonight. Faun are presented in a very folksy costuming and the same goes for the performance. The song has calls, wails, promises and bag pipes. It is trying very hard to have a strong impact but as I watch I find it hasn't really gone anyways. The celtic sounds are there and the fire effects add to the performance but I don't think Faun will be going to Austria in May.
04. Noize Generation – Song For You
The young German David Guetta created this track having worked with some big names in dance in his career and he brought in the husky vocal tones and talents of Patrik Jean to bring it to life. The performace starts at the piano and as we see the stage there are two dancers in colour changing LED suits, which distract a lot from the song and the performance of the lead vocalist, Patrik. The track is strong, but it's nothing out of the ordinary and the lyric "I wrote a song for you" is repeated some 25 times. Great to see an act like this in the show but Song for You isn't Song for 2015.
05. Ann Sophie – Jump The Gun
Ann Sophie is the wildcard act in this years show. Could this be a good omen for her. Performing with her back to the audience initially she is centre stage, wearing a red jumpsuit with a flat gold necklace upon the collar she is flanked by backing vocalists and a set of pulsating lights as part of the production. She is very confidence as she gets a big cheer from the crowd when she coyly turns and smiles at the audience. This girl owns the stage as she goes on. And it's coming to her ease. Not the strongest song but she is one to watch for sure.
06. Fahrenhaidt – Frozen Silence
Opening the song we see three ballerina's in light up tutu's on stage near the performers. The tone is lonesome and cold but with purpose. A strong vocal throught. This may tap into a mature market who are obsessed with all things associated with the Disney Frozen franchise. This is a lot more serious however than some animation. I'm taken by the show on stage but cannot say I think this is a winning song. Certainly a very talented group and the production is imaginative. The song has a false end, the audience in the arena are cheering before the final note is played.
07. Laing – Zeig Deine Muskeln
A high camp performance from this girl group who we see from the start upon their exercise bikes, the trio are wearing their gym gear and have committed in full to their stage show. Before too long they are joined on stage by a very athletic female dancer who poses and flexes in time with the song. It's all very hot and exercising. A fun idea but this really is just for fun.
08. Andreas Kümmert – Home Is In My Hands
A bearded guy with a very pure voice. Following on from last years Norwegian entrant Carl Espen this is another big man with emotions and he is wearing his heart on his sleeve. It's very paired down, so simple, a guitar accompanies Andreas as he sings, wearing his zip top hoodie, he is just being himself, as he sings from the heart. He is like the UK's Ed Sheeran in 20 years time. I think I would like him to win this show. He received a standing ovation and a huge cheer which is a testament to this talented man and how he managed to impress the audience in the arena.  
Second round: 
01. Alexa Feser – Das Gold von morgen
She is back being the piano and singing with feeling and has changed into a gold dress which catches the light as she plays the piano. Strings are prevalent within this entry with cello and multiple violins adding to the stage show. The song is very emotive and she remains at the piano as she delivers a very accomplished vocal. I feel that both her songs are very strong and she is a very talented performer.
02. Ann Sophie – Black Smoke
Changed to a white long jacket over black dress and tights Ann Sophie stands behind the mic as she belts out Black Smoke. She dumps the mic stand to the stage side and like before she commands the stage in a way no other performer has done in this way in this years final. She wants this win, which is evident, but not just that she is a very strong performer.
03. Laing – Wechselt die Beleuchtung
This time the girls are positioned on a dark stage initially with each of them being illuminated by a desk style long armed lamp which they use to shine out at the crowd and the cameras. It's a very different performance from the exercise bikes. They are wearing black and white poncho style capes, which get removed to show bright red dresses. The song is very sultry and is delivered in a slightly spoken word. They are very versatile as an act.
04. Andreas Kümmert – Heart Of Stone
A more upbeat track is presented by Andreas on second performance but with as strong a message and vocal delivery. He hasn't changed costume like the previous three acts and remains in his hooded top; he isn't dressing up for anyone. This time a guitarist, a keyboard and drums back him. The tone and inflection of his voice is so pleasing and he really has a special sound. This time he hits his higher register and he really is convincing and comes across as a very nice guy. Andreas is the only male remaining in the final four.
At this stage the German viewing and voting public have the change to decide which song and act they like best to go through to the super final head to head which will decide tonight's winner who is headed to Wien.
The Show
Unser Song für Österreich kicked off live at 20.15 CET with a performance of Rise like a Phoenix by Conchita Wurst who received a standing ovation inside the Expo Plaza Arena in Hanover. This was ahead of the 8 finalists all vying for the win and the honour of representing their country on the Vienna stage performing one by one. The host was Barbara Schöneberger who had Happy Birthday sung to her by Conchita at the opening of the show, supported by backstage presenter Janin Reinhardt covering the green room area.
In tonights national final three well known acts performed, Conchita of course opening the show. Then later during the show's first interval Mark Forster performed. A short video was shown after the first public vote result featuring a brief detail about Australia's first entrant Guy Sebastian. In the second interval Stephanie Heinzmann sang for the audience and viewers at home.
After the second vote count there was a look ahead to some of the 2015 entries from other countries including Albania, Finland and Slovenia. 
Conchita returned to the stage to perform the track You are Unstoppable ahead of the reveal of the final results.  
The Result
Each national final has it's own way of presenting the songs and the singers for the public vote. In tonights final the 8 acts participating have come to this stage with two songs each. After the first vote count has been take we lose 4 acts right away meaning that we only then get to hear 12 of the 16 songs which potentially form part of this process.
In the show all 8 acts performed one of their songs, then the vote count was taken and this removed four of them. The remaining four acts: Alexa Feser, Ann Sophie, Laing and Andreas Kümmert returned to the stage and performed their second songs for the first time.
After these performances the voting count took place again and from this result just two acts progressed as the super finalists; Ann Sophie and Andreas Kümmert. Both these acts performed one more time, Ann Sophie performing Black Smoke with Andreas performing Heart of Stone, both their second songs of the night. 
The result of their head to head decided who would be representing Germany at the 2015 Eurovision Final. 
Andreas Kümmert was announced the winner after both acts were walked back to the stage by green room presenter Janin ahead of the winning moment. However in an unexpected twist he refused the victory and handed it to Ann Sophie who then performed Black Smoke again. This is going to be the German entry 2015.
Germany at the Eurovision Song Contest:

When the Eurovision Song Contest started back in 1956 Germany were one of the first participants. They've been there ever since, apart from 1996 when they were relegated due to the growth and expansion of the contest at that time. Germany has won the song contest twice. Their very first win was in 1982 where Nicole won with the Ralph Siegel written song Ein bißchen Frieden. It took a further 28 years before they managed it again when in 2010 Lena Meyer-Landrut took the votes of europe bwith the catchy song Satellite.

As one of the big 5 (for 2015 the big 6 including Australia) Germany are automatically qualified to the final of the Eurovision Song Contest.