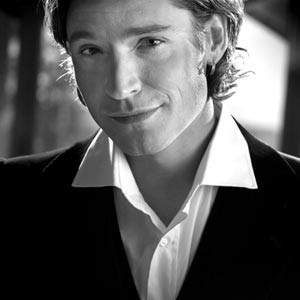 Andreas Johnson is one of the favourites to win Melodifestivalen this year. Tonight he participated in the second heat in Sweden, a heat which on paper looked rather easy for him. Andreas Johnson did make it to the final, together with Eric Saade. Two other songs will get a second chance to qualify for the Swedish final.
For the second semi-final of the 2010 Melodifestivalen the following eight acts were competing in Sandviken for two direct qualifications to the final and two places in the second chance round:
1. Song title: Manboy
Songwriters: Fredrik Kempe (lyrics & music), Peter Boström (music)
Performer: Eric Saade
– Eric is accompaignied by 8 dancers on stage in this up-tempo pop song. He looks like a Swedish version of Cristiano Ronaldo – this is a one persons boy band and near the end of the performance he takes place in a shower and the water is pulled over him.
2. Song title: Hippare Hoppare
Songwriters: Vlatko Ancevski, Vlatko Gicarevski, Douglas Leon, Mats Nilsson, Teddy Paunkoski, Otis Sandsjö, Stevan Tomulevski
Performer: Andra Generationen & Dogge
– Welcome to a nice Balcan party with a bit of hip-hop added to it. You are sure to be entertained no matter if you like the song or not – and they are sure not to have many competitors in their genre.
3. Song title: Innan alla ljusen brunnit ut
Songwriters: Dan Attlerud (lyrics), Stefan Woody (music)
Performer: Anna Maria Espinosa
– Dressed in a simple black dress Anna Maria sings this ballad being alone on stage. The staging on this song makes you think of a light edition of Édit Piaf.
4. Song title: Come And Get Me Now
Songwriters: Mia Terngård (lyrics & music), Stefan Lebert (music)
Artist: Highlights & MiSt
– There is a little similarity to The Corrs in this song where you have three musicians, a male leadsinger and a female choir singer on stage. It is up-tempo pop, but appears a bit messy in the performance.
5. Song title: Sucker For Love
Songwriters: Fredrik "Fredro" Ödesjö (music), Andreas Levander (music), Johan "Jones" Wetterberg (music), Pauline Kamusewu (lyrics)
Performer: Pauline
– In the national selection in Sweden you are allowed to be 8 people on stage in difference to the international rule about six people. Pauline uses the Swedish rule to the max as she has 7 dancers on stage. The song is very close to Amy Winehouse – style.
6. Song title: We Can Work It Out
Songwriters: Andreas Johnson, Bobby Ljunggren, Marcos Ubeda
Performer: Andreas Johnson
– Andreas has the name, the look and the voice so what can go wrong? Well, of course he needs to have the song as well and though this absolutly doesn't live up to his first attempt Sing For Me it should have no problems qualifying. He is alone on stage in this balld. 
7. Song title: Underbart
Songwriters: Lina Eriksson (lyrics), Johan Moraeus (music)
Performer: Kalle Moraeus & Orsa Spelmän
– It can be hard for foreigners to relate to this folkmusik, but in Sweden this genre is quite popular and as such this song might actually just make it – although the red electric guitar from the leadsinger looks a bit out of place. The audience is thrilled and they recieve the biggest applause so far.
8. Song title: Manipulated
Songwriters: Sarah Lundbäck, Hayden Bell, Erik Lewander, Iggy Strange-Dahl
Performer: Hanna Lindblad
– Hanna is accompaigned by six female dancers all dressed in this Moulin Rouge look-a-like. The male audience will vote for this as best outfit. The song is a bit dance style and quite popular with the audience.
Result:
First 8 songs were cut down to five. The songs that went through are song number 1, song number 5, song number 6, song number 7, song number 8. First one will go straight to the final and the rest of the four songs will then in another voting fight for two places in second chance and one final position. The remaining fifth is out.
Direct to the final is first song number 1. Manboy sung by Eric Saade.
To the second chance are Pauline and Kalle Moraeus & Orsa Spelmän.
And finally the last song to qualify directly for the final in Globen is Andreas Johnson.
About the participants:
Two of the participants came with previous experience from Melodifestivalen. Andra Generationen participated in 2009 with the song Kebabpizza Slivovitza. For Andreas Johnson 2010 is his fourth attempt to reach the Eurovision Song Contest. He has previously tried in 2006, 2007 and 2008 and despite good success he hasn't yet had the luck to win.
Among the many newcomers in Melodifestivalen we found Eric Saade who started his career at the age of 19 in the boyband What's Up. Last year he left the band to start his solo career. He has also worked as program leader on Disney Channel. Anna Maria Espinosa has mainly been singing on artists albums, but she established her own name last year with the single Glowing With You.
As something new SVT introduced this year the Webbjoker where amateurs could submit songs which people then voted among on the internet. The winner of that competition were participating in tonight's semi-final as song number 4; Come And Get Me Now.
Pauline started at an early age as she has been writing songs since she was 12 years old! She recieved an award as best newcomer in 2003 and has so far released two albums. The band Kalle Moraeus & Orsa Spelmän was founded by Benny Andersson, one fourth of ABBA and several of the members are also playing in Benny Andersson's Orkester. Hanne Lindblad is a musicalstar who has performed with well known names such as Lill-Babs, Sven-Ingvars and Martin Stenmarck and been backing singer for Markoolio and Darin.