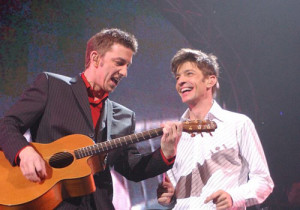 The Belgian group Clouseau, who represented their country in 1991 with Geef Het Op have long been massive favourites in their home country. Their status has been further cemented by the announcment that company VMM is to produce a musical about the band.
Entitled Domino, the show will be based around the many hits of Clouseau and is scheduled to start in spring 2012 at the Stadsschoiwburg in Antwerp. It is reported to be a romantic comedy revolving around the themes of friendship and love in the life of the main character, 28 year old Domino. The idea was conceived by VMM (Vlaamse Media Maatschappij). Wim Hubrechtsen, Manager of New Business at the company said that their string of hits suited the musical concept perfectly, a concept that is just as popular in Flanders as elsewhere in the world. He goes on to describe it as the first ever Flemish feelgood musical.
Clouseau released their first single, Brandweer (Fire brigade) in 1987. With a career spanning more than twenty years, the group have released 15 albums and more than 45 singles. They have also managed to fill the Antwerp Sportspaleis venue 116 times! The group were also recently reported as ranking over the likes of Prince in tour earnings for 2010 – an impressive feat. Clouseau are apparently assisting the project, providing feedback on the script, which is in the process of being written by Frank Van Laecke and Allard Blom.