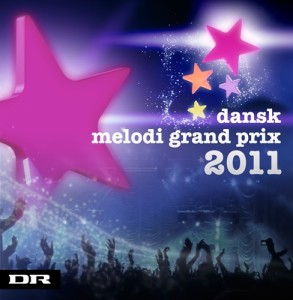 Earlier this week 30 seconds clips from the songs participating in Saturday's Danish final were made public. After the first dress rehearsal Thursday evening the complete versions were put online by DR. The CD will also hit the record stores today. 
The ten songs can now be heard in their full version on DR's website. Do any of them have what it takes to win the Eurovision Song Contest in May? The broadcaster hasn't been quiet with that goal, but can these participants live up to the high expectations? 
Listen to the songs
 and judge for yourself. 
After having heard the songs you can choose to vote in 
DR's poll
 or just see the current standing.
Last year Denmark finished 4th in the Eurovision Song Contest with In A Moment Like This performed by Chanée & N'evergreen so the pressure on whoever wins on Saturday will be quite high.
The ten songs will perform in this order on Saturday:
Song nr. 1: Anne Noa – Sleepless
Song nr. 2: Jenny Berggren – Let Your Heart Be Mine
Song nr. 3: Jeffrey – Drømmen
Song nr. 4: Le Freak – 25 Hours A Day
Song nr. 5: Sine Vig – You'll Get Me Through
Song nr. 6: Stine Kinck – Hvad hjertet lever af
Song nr. 7: Lee Hutton – Hollywood Girl
Song nr. 8: Christopher Brandt – Emma
Song nr. 9: Kat & Justin Hopkins – Black and Blue
Song nr. 10: A Friend in London – New Tomorrow
You can read more about the participants in our 
presentation
.