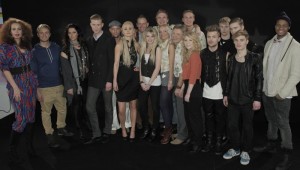 When the Danish final kicks off Saturday at 20:00 CET the agenda is to pick the song that can bring Denmark all the way to the top of the scoreboard in Düsseldorf. 10 acts are in the running, but only one will get the chance to show that they can do better than last year's fourth place. Here you can read more about the hopeful participants.
Song nr. 1: Anne Noa – Sleepless (John Gordon, Peter Bjørnskov og Lene Dissing)
| | |
| --- | --- |
| 1  | Anna Noa is a 17 year old high school student, who spends a lot of her free time composing songs and singing at her piano. She doesn't have much stage experience, but see the Danish final as a fantastic opportunity. About Melodi Grand Prix she tells that she haven't followed the adult version much, saw it last year, but has due to her age mainly been following the junior version. |
The composers
: 
John Gordon won the Eurovision Song Contest last year as he wrote

Satellite

for Germany's

Lena

. He decided two work together with two other songwriters with experience. Peter wrote the song

Breathing

, which

Bryan Rice

took to second place in the 2010 Dansk Melodi Grand Prix. Lene is one of the songwriters behind

La teva decision

, the Andorran entry for the 2009 Eurovision Song Contest, which was sung by Danish singer

Susanne Georgi

.
Song nr. 2: Jenny Berggren – Let Your Heart Be Mine (Jeppe Federspiel, Thomas G:son og Lars Sjelle)
| | |
| --- | --- |
| 1  | Jenny was together with her sister lead singer in the Swedish pop band Ace of Base that in the 90's became known in most of the world. For her, it is like coming back to where it all started as it was a Danish record company that first saw the potential in the group. She says she is looking forward to give back to the audience that has taught her everything she knows and that the song in the Danish final will be a lovely greeting to everyone who took part in the Ace of Base party. |
The composers: Jeppe Federspiel is one half of the Danish producer team Providers, who are working together with quite successful names in Denmark. Thomas G:son needs little introduction as he is has been in so many national finals around Europe and represented four countries in the Eurovision Song Contest. Last year he wrote Chanée & N'evergreen's In A Moment Like This. This year he has two songs in the Danish final.
Song nr. 3: Jeffrey – Drømmen (Lasse Lindorff, Svend Gudiksen, Daniel Fält og Kim Nowak-Zorde)
| | |
| --- | --- |
| 1  | Jeffrey is a 25 year old singer,  whose role models are Michael Jackson, Usher and Neyo.  He works as a songwriter and producer at GL Music. On what he can offer Dansk Melodi Grand Prix Jeffrey answers: Smile, happiness and a song his mother is proud of! And then he points out that he is the only black guy in the field this year.  |
The composers: For Lasse Lindorff this is fourth year in a row he has a song in the Danish final. In 2008 he also sang the song himself; Hooked On You. Last year he wrote Kæmper For Kærlighed for Sukkerchok. Svend Gudiksen wrote All Night Long, the 2008 Danish Eurovision Song Contest entry sung by Simon Mathew. Daniel Fält and Kim Nowak-Zorde have both been musicians in the Dansk Melodi Grand Prix several times and is currently also in the orchestra for the X-factor Live shows.
Song nr. 4: Le Freak – 25 Hours A Day (Thomas G:son, Henrik Sethsson og Erik Bernholm)
| | |
| --- | --- |
| 1  | Le Freak is a disco band that says they have been put on this world to make people go crazy on a dance floor.  The band consists of Ditte Marie (singer), Mark (singer/keyboard), Holger (guitar), Jesper (drums), Nikolaj (bas) and Lasse (keyboard/saxophone/singer). When asked why people should vote for them the answer comes quite quickly: People will know why when they hear the song!  |
The composers: The three songwriters wrote last year's Danish entry In A Moment Like This. This is Thomas's second song in this year's Melodi Grand Prix. Henrik has also participated as a songwriter in various selections, but until last year his only Eurovision entry was the Swedish Listen To Your Heartbeat from 2001. Erik Bernholm is studio musician and producer. 
Song nr. 5: Sine Vig – You'll Get Me Through (Hanif Sabzevari og Henrik Janson)
| | |
| --- | --- |
| 1  | 18 year old Sine has been singing since she started in the local church choir at the age of 6. After having won a local amateur competition in 2007 she decided to participate in the TV2 talent show "Scenen er din" (The stage is yours), which she went on to winning with the Elvis Presley song Always On My Mind. She has later been singing the Danish version of the title song for Camp Rock as well as put voice to the leading role in the Mexican version of High School Musical.  |
The composers: Henrik Janson has participated as a guitar player and songwriter at the Swedish selection, Melodifestivalen, several times. He has worked as a songwriter and producer for several Danish names and has a child with Søs Fenger, a popular Danish singer. Hanif wrote Unstoppable for Ola in last year's Melodifestivalen, he participated as a songwriter in this year's Irish final and has co-written and produced for Sukkerchok.
Song nr. 6: Stine Kinck – Hvad Hjertet Lever Af (Søren "Pharfar" Schou, Rasmus Allin, Andreas "Fresh-I" Keilgaard og Stine Kinck)
| | |
| --- | --- |
| 1  | Stine started her career at the age of 15 when she toured as choir singer for Savage Rose. Later she joined the band Los Umbrellos that had international success and later again she has been singing with the hip hop group Hvid Chokolade.  She has released a solo single in Danish, but an entire album is on the way.  |
The composers: Søren Schou is known under the name Pharfar. His music is mainly reggae inspired so Melodi Grand Prix is something he has never thought about before until DR offered him a wildcard. Anders Keilgaard and Rasmus Allin are his two musical colleagues who he has a studio together with.
Song nr. 7: Lee Hutton – Hollywood Girl (Sune Haansbæk, Matilde Kühl og Ian Mack)
| | |
| --- | --- |
| 1  | Lee Hutton is English of nationality and unknown to the Danes. He has however had international success with the Irish boy band Industry.  He met the two Danish songwriters Sune Haansbæk and Matilde Kühl at a songwriter camp one and half year ago. He adds that he later have become fond of Denmark and have a lot of respect for the Danes, which is why he would like to represent them at the Eurovision Song Contest. |
The composers: Matilde is mostly known as a singer. Last year she participated in the Danish final as one half of the girl duo MarieMatildeBand. Sune is working as songwriter and producer for both Danish and foreign acts. Ian Mack has worked as a producer at WEA Records and Warner Publishing. 
Song nr. 8: Christopher Brandt – Emma (Christopher Brandt og Sisse Marie Søby)
| | |
| --- | --- |
| 1  | Christopher played ice hockey for 11 years until he realised that it is music he wants to do. His first public performance was however related to his sport as he was asked to sing the Danish national anthem to an ice hockey match in Sweden. He says that he participates in the Danish final to share with Grand Prix – joy with the rest of Denmark.  |
The composers: Christopher wrote the song together with Sisse Marie who won the Danish Junior Melodi Grand Prix final in 2001 with the song Du Har Brug For Mig. Since that she has worked as a singer, songwriter and as model.
Song nr. 9: Kat & Justin Hopkins – Black and Blue (Patric Jonsson, Joacim Övrenius og Justin Hopkins)
| | |
| --- | --- |
| 1  | Kat participated in last year's Danish final where she came third with the song Come Come Run Away; a duet with professional dancer Silas. This time she is singing a duet with an American singer unknown to the Danes. Justin has released two albums and worked as a guitar player for the American TV show "Last Call with Carson Daly" and lately he has performed and written together with the German Idol star Mike Grolsh.  |
The composers: Justin has written the song together with two Swedish songwriters, who also participated at last year's Danish final where they wrote Just Like Rain that was performed by Thomas Barsøe. Patric played in a band until 1999 and has since that written songs for singers all over the world. Joacim started writing songs at the age of 10. He took a music education and has had his own studio since 2001 where he both writes and produces music.
Song nr. 10: A Friend in London – New Tomorrow (Lise Cabble og Jakob Glæsner)
| | |
| --- | --- |
| 1  | The band was formed in 2005 when the four members, Tim, Sebastian, Aske and Esben met each other. They won the European music festival Bodog Million Dollar Battle in 2008. Since that they have been booked for a lot of jobs in Canada. They have played at Canadian Music Week, at the morning TV programme Breakfast TV and toured in most of the country. They are now ready to put focus on their career in Denmark.  |
The composers: Lise is quite en established songwriter in Denmark. She has participated with 10 songs for the Danish final over a period of 8 years. She wrote Denmark's 1995 entry Fra Mols Til Skagen which ended 5th at the Eurovision Song Contest performed by Aud Wilken. Jacob plays in the band Johnny Deluxe that participated at the Dansk Melodi Grand Prix in 2009, where they got a big hit with the song Sindssyg. 
All photos: Bjarne Bergius Hermansen, DR