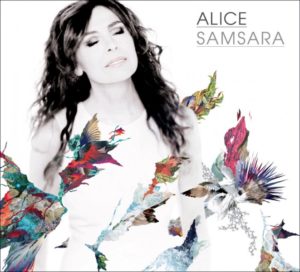 Alice, whose real name is Carla Bissi, represented Italy together with Franco Battiato at the 1984 Eurovision Song Contest. Her latest album, the nineteenth of her career, will be released on September 18 after fourteen years without new material. Dates have also been announced for her Italian tour.
Samsara was created as an album, that finds its shape in the inspiration and the accuracy with every song that has been chosen and it consists of twelve songs very different from each other giving the impression of being together to build a perfect album. It comes three years after her live album Lungo La Strada (Along The Road) and nine years after her latest studio project, Viaggio In Italia (Travelling Around Italy) that included covers of songs from other authors. So we must go back to 1998 to find an album from Alice strongly influenced by the presence of unreleased songs which was called Exit.
Her new album includes two tracks written by Alice herself and we also will find the collaborations by recognized composers such as Tiziano Ferro who has written two songs specially for her as Nata Ieri (Born Yesterday), which is the first single of the album, and Cambio Casa (Return Home) and Mino Di Martino who has composed many songs for Alice along her entire career and he is the author of Morire D'Amore (Dying For Love), which is based on the life of the Maid of Orléans, Joan of Arc and Come Il Mare (Like The Sea) and Autunno Già (It Is Autumn Already) inspired by the poems of Rimbaud and Verlaine also known as the cursed poets.
The album also has a song composed by Franco Battiato, the other half of the duo who represented Italy at the 1984 Eurovision Song Contest together with Alice singing I Treni Di Tozeur (The Trains Of Tozeur). This track is entitled Eri Con Me (You Were With Me) which, in a very different version, will also be part of the new album of Battiato to be released in late October.
But there are not only new songs in the tracklisting of Samsara. The album also includes a studio version of a poem by Totò with music by Giuni Russo called A Cchiù Bella (Most Beautiful), the sweet ballad by Lucio Dalla Il Cielo (The Sky) that has been in her repertoire for many years and Paolo Tofani's song which succeeded in the 60s Il Mattino (In The Morning).
All this results in an album of great songs carefully selected, composed, arranged and performed. It was produced and recorded in London and Milan by Steve Jansen, Francesco Messina and Marco Guarnerio. String instruments were played by Cantini Quartet and arranged by Alberto Tafuri.
In the coming days a new and original official website with renewed graphics and content will become available. It will include some snippets of the album.
The release of Samsara is set for the 18th of September followed by a theatrical tour from November to January which will take her to the major Ialian cities. Here are the first confirmed dates so far:
30.10 – Forlì – Teatro D. Fabbri
08.12 – Rimini – Teatro Novelli
11.12 – Milan – Teatro Dal Verme
13.12 – Florence – Teatro Puccini
14.12 – Como – Teatro Sociale
11.01 – Sant'Agata Bolognese – Bibiena
12.01 – Padua – Teatro Geox
24.01 – Rome – Auditorium Parco della Musica, Sala Sinopoli
Below you can watch Alice's videoclip of Nata Ieri, the first single from her new album.