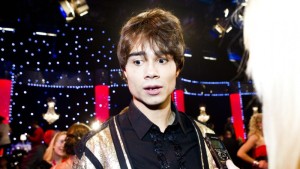 Since winning Eurovision in 2009, you'd have thought Alexander Rybak had quite literally lived the fairytale. With fame however, comes attention, some of it most unwanted. Rybak's newest single, out tomorrow, tells of the nightmare he has been experiencing lately with an obsessed fan trying to get too close.
Since his Eurovision victory, young charmer Alexander Rybak has remained in the spotlight through his participation in high profile shows, such as Let's Dance in Sweden. His name has been linked to various women in the tabloid press with rumours of romance, most of which has been welcome attention. Lately
however, Rybak has been tortured by an extremely obsessive female fan who has badgered the star day and night, making his life hell.
the girl in question travels around the world in an effort to get close to her idol, apparently even turning up on Rybak's front doorstep! He has been swamped by over 600 e-mails from the amorous fan and has been forced to obtain an unlisted phone number, which, rather disturbingly, the troublesome fan manages to get hold of time and time again. The persistent girl still calls Rybak at least thirty times a day, and even more so at night, making it difficult for the star to get rest after a hard day's work.Rybak has spoken openly about the ordeal through both his Facebook page and official website.
His newest single is aptly entitled Leave Me Alone and is scheduled for international release tomorrow, the 12th of October. The troubled singer states on his official fan page that he wonders even whether or not the girl in question will realise the song is about her. Hopefully she'll get the rather unsubtle hint and give poor Rybak some breathing space!