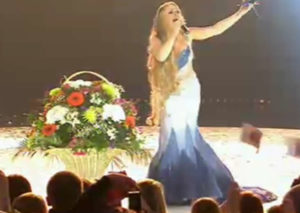 Minutes ago the Belarusians decided that it will be up to Alena Lanskaya to bring the country into the final of the Eurovision Song Contest, something they missed out on last year as the rest of Europe didn't love Belarus just as much as Anastasiya Vinnikova did. Tonight's winner was chosen in a big show featuring a long list of Eurovision performers.
5 acts had made it through to the final of EuroFest, the Belarusian national selection. Today they were fighting for the honour of representing their country at the 2012 Eurovision Song Contest. Today's show was held at Minsk Sports Palace, which also hosted the 2010 Junior Eurovision Song Contest.
The songs: 
Alena Lanskaya – All My Life (Written by: Leonid Shirin, Yuriy Vaschuk)
First song in this final is a ballad, where Alena goes up on the chorus, almost making it to be a strong power ballad. She looks beatiful on stage in her long almost mermaid styled dress with long tail and bare shoulders. The dress is blue in various aspects, which matches the background colour. She starts out sitting at a swing, which a male dancer/acrobat comes in to take over. He is lifted up to be placed above the stage. Near the end of the song pyrotechnics are used regular just as the male dancers comes down again.    
Gunesh – Tell Me Why (Written by: Isa Melokov, Zahra Bedelbeyli)
Next on stage we have Gunesh dressed in a short black dress with a long see-through skirt around it. A leather halterneck on the top and matching gloves gives her a rough apperance reminding a bit of Ruslana. She has two guitar players, a drummer and a violin player with her on stage for this song, which starts out as a ballad, but as the chorus kicks in it becomes a rock song. Fire is used on the background for the choruses.      
Viktoriya Aleshko – Dream (Written by: Evgeny Oleinik, Yulia Bykova, Svetlana Geraskova)
We continue with Viktoriya dressed in a long red strapless dress. Her long hair has been put up to a big standing tale on top of her head. She is accompanied on stage by three female backing singers behind her standing tall on a plateau covered by their long dresses. Near the end of the song they are lifted up to the seeling like angels. Two male backing singers are standing in each their side of the stage for this classic ballad. The background is mainly blue with white stars – and with her picture showing of near the end of the song.   
Litesound – We Are The Heroes (Written by: Vladimir Karyakin, Dmitry Karyakin)
The next ones to perform are the band Litesound. They participate with a pop song, with a few hints of rock. Watching this band on stage makes one think a little bit of the Greek 2002 entry S.A.G.A.P.O. The chorus is extremely catchy and easy to sing a long to. Pyrotechnics are used on the chorus. If there is a price for most interesting microphones this performance wins and judging from the big applauce afterwards they might also just be the favourites to win it all.    
Uzari – The Winner (Written by: Yuriy Navrotskiy)
Last one fighting for the ticket to represent Belarus in Baku in May is Uzari. He starts out on a plateau, which is the center of this performance as he returns to it later in the song, where it also turns around with his dancers and backing singers around it. In total he is accompanied on stage by three men and two women – all dressed in black just like Uzari himself. He is dressed in a black leather jacket over a red sweatshirt and black trousers. At the end of the song he stands on the plateau taking off his clothes showing him in a white suit underneath.     
The show:
This year's final of EuroFest lived up to its name as being a big Eurovision Fest. Several former participants had found its way to Minsk celebrating that it is now soon time for another edition of the Eurovision Song Contest to take place. The show started at 18:00 local time (16:00 CET) and kicked off with a dancing routine where dancers were dressed like white butterflies, three dancers were placed in big birdcages hanging over the stage. After the host had been welcoming us all some traditional folk dancers came to stage to show their skills.
As all 5 competing songs had been performed all the participants came on stage for a song together about EuroFest, sung in a mix of English and Belarusian. It is well recieved among the audience in the hall. After that performance the first ever winner of the Eurovision Song Contest Swiss Lys Assia sang her winning entry from 1956 Refrain, a beautiful performance leaving no doubt that she still got it. 
A recap of the five songs were shown with few minutes left to vote before Koldun came on stage to sing his 2007 Belarusian entry Work Your Magic. This song ended 6th in the Eurovision Song Contest final making it the most successful song for Belarus. That he is still popular in his homecountry could be heard on the screaming teenagers and the very big applace he recieved for tonight's performance. He stayed on stage afterwards talking to the audience for a bit – with the teenage girls clearly loving it. Koldun was followed by one of his Eurovision competitors; Marija Šerifović singing her 2007 Eurovision Song Contest winning song for Serbia Molitva.
Afterwards one of this year's Eurovision Song Contest participants Sinplus representing Switzerland came on stage singing their entry titled Unbreakable. They also recieved a big applauce for their song, which appeared to once again mostly catch the attention from the teenage girls. They were followed by a video message from the 1998 Israli Eurovision winner Dana International but just because Dana couldn't be there we still got to see Diva performed on stage by Belarusian singer Ivan, which proved that the song can be performed by a male singer as well.
And then it was time for another Eurovision Song Contest winner to make the appearance on stage. Ruslana came to perform her 2004 winning song from Ukraine Wild Dances something that also recieved a big applauce. Compared to the other ones Ruslana got to perform one more song, this time a more traditional folk music song. She was followed by Sakis Rouvas who represented Greece twice at the Eurovision Song Contest. First time in 2004 with Shake It ending third and then again in 2009 where he came 7th with the song This Is Our Night. The latter he performed tonight at EuroFest. Also Sakis got to perform a second song; Keep on Moving.
As if we had not heard enough teenage girls screaming Sakis cleary took it to new hights, just to be beaten by 2009 Eurovision Song Contest winner Norwegian Alexander Rybak singing his big hit Europe Skies however this version is in Russian, a language Alexander knows well as he is born in Belarus. As it ends it goes over into Fairytale, the song that brought Norway its third victory at the Eurovision Song Contest, this time in English.      
Ell/Nikki (Eldar & Nigar), the winners of the 2011 Eurovision Song Contest now comes on stage singing the song, that is the reason we are all going to Baku, Azerbaijan in May; Running Scared. They are followed by Philip Kirkorov, representing Russia in 1995 with the song Kolibjeljnaja Dlja Vulkana and also composed the 2007 Belarusian entry Work Your Magic as well as the 2008 Ukrainian one Shady Lady. The gigantic applauce afterwards, that wouldn't end, shows just how big a name Philip is in Belarus.
After that performance it was time to look at the greenroom where the five participants were waiting in eager together with all the guest acts from the show.    
The result:
It is always difficult to predict the result of a national final and in particular in a country, which have been sending such different songs as My Galileo from the debut in 2004 and Ruslan Alenho's Hasta La Vista from 2008 to their 2010 entries Butterflies and last year's I Love Belarus. This time, where the winner was chosen in a 50/50 combination of televoting and a professional jury, was no exception, although most fans had been talking about wanting to see either Litesound or Ginesh win. Only one could win though – and that ended up being between Litesound and Alena Lanskaya. And the winner is…..
Alena Lanskaya who will represent Belarus at the 2012 Eurovision Song Contest with the song All My Life.
On second place came Litesound, while Gunesh came third and Viktoria fourth and Uzari fifth. 
Below you can see a video of Alena's performance from tonight's EuroFest.