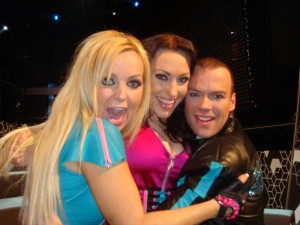 After tonight's live show, two artists qualified for the final in Stockholm, which will be held on the 14th of March. An additional two songs have to go through the Second Chance to get to the final.
All week there has been speculation about who will go through to the final, and who will miss out. Every year, there is some kind of surprise and this year was no exception. In this first semi-final, Alcazar and Emilia qualified for the final. The two artists who were really close to getting a ticket to the final, but didn't quiet make it, were Scotts and Caroline af Ugglas.
Mixed with the live show were some clips with former Melodifestivalen winner, Martin Stenmarck, and last years winner, Charlotte Perrelli. They make fun of the fact that Sweden finished at 18th place in the Eurovision Song Contest.
After the first round of votes, five songs qualified for the next round: Alcazar, Caroline af Ugglas, Emilia, Nina Söderquist and Scotts. Next up was duels between four of these artists. The artists finishing first and fourth, and then the artists finishing second and third. First duel was between Alcazar and Scotts, and second duel was between Emilia and Caroline af Ugglas.
One of the new things this year is that an international jury will pick a song from each semi-final that will battle for a place in the final. This week the international jury's choice was Caroline af Ugglas. And since she also is in the Second Chance, her chances making it to the final is pretty good. EuroVisionary talked to Caroline af Ugglas after the semi-final: "This was almost the best thing that could happen. It was great that the international jury picked me, and that the Swedish viewers voted for the song".
Alcazar talked to the journalists for a while before they went off to celebrate with champange at the after party. "It was about time" they said, when one of the reporters mentioned that this is the first time they make it through to the final directly.
This is the result in this weeks semi-final:
To the final: Alcazar and Emilia
To Second Chance: Caroline af Ugglas and Scotts
5. Nina Söderquist
6. Jonathan Fagerlund
7. Marie Serneholt
8. Shirley Clamp