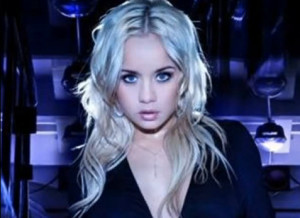 After finishing last in the second semi-final last year and failing to qualify for the final Latvia will be hoping that Aisha will do much better this year after she won the Eirodziesma 2010
Having laid to rest rumours that Latvia would withdraw from the contest altogether, broadcaster LTV decided to dispense with the semi-final format used in previous years and just have a final in 2010. They selected ten songs to compete for the prize of going to Oslo:
PeR – Like A Mouse (Music and Lyrics – Mārtiņš Freimanis – The title might not promise too much, but the first song is a melodic piece of soft-rock. It wouldn't have been a bad entry for Latvia. For their performance, they were accompanied by three ladies dressed in business suits.
Trianas Parks – Lullaby For My Dreammate (Diamond Lullaby) (Music and Lyrics – Agnese Rakovska – Trianas Parks is a name familiar to the Latvian selection, having competed in 2008 and 2009. This years entry is and atmospheric song which quickly moves from lullaby to something that Sinead O'Connor might have released. The extravagant staging deserved a prize of its own!
Aisha – What For? (Only Mr.God Knows Why) (Music – Janis Lusens, Lyrics – Guntars Racs) – The third song of the evening tries to be an anthemic clap-along. Some will say it manages to achieve this, others will say it doesn't! It was difficult to tell what was longer, the song or her dress. It seemed to cover the whole stage, at least until she walked forward, leaving most if it behind.
Lauris Reiniks – Your Morning Lullaby (Music and Lyrics – Lauris Reiniks) – the second lullaby of the evening isn't really a lullaby either. It's melodic, but a bit too 'busy' to make anyone fall asleep.
Dons – My Religion Is Freedom (Music – Zigmars Liepins & Janis Liepins, lyrics by Nikita Kellerman and Zigmars Liepins) – Dons sounds like a band but is actually a solo male. His song is rock edged and loses a bit of impact when the song almost stops to make way for the title to be spoken in different languages in a throwback to Eurovision Song Contests of old.
Project Konike – Digi Digi Dong (Music – Edijs Snipke & Andris Konters, Lyrics – Edijs Snipke) – In recent years, the contest has seen songs sung in made up languages, and here is another. It didn't sound like a winner, lacking the vital hook. Instead, it plods its way gently from start to finish.
H2O – When I Close My Eyes (Music – Stanislavs Judins, Lyrics – Janis Strapcans) – For the first minute or so of the song, When I Close My Eyes sounds like it could be a contender. It begins as a beautiful ballad, and then it gets all weird and messy, losing direction. Some uncertain vocals didn't help.
Kristine Karkla – Rišti Rašti (Music – Raimonds Tigulis, Lyrics – Valts Ernstreits) – This is a folk song that drifts along while failing to leave a lasting impression, despite a lot of percussion.
Ivo Grisnins Grislis – Because I Love You (Music by Ingars Vilums, Lyrics by Ingars Vilums) – Ivo's song is a steady, acoustic guitar based ballad. There are sections of the song that lead to thoughts of "I've heard this before somewhere."
Kristina Zaharova – Snow in July (Music – Janis Strazds, Lyrics by Guntars Racs) – How ever would the British cope if this happened? The last song of the night is a middle of the road, mid-tempo affair with simple rhymes, but pleasant enough.
As Latvia was selecting their eleventh entry, each of the ten songs was preceded by a video story of the ten previous Latvian entries.
While the votes were being counted, the audience were entertained by videos of some of the songs already chosen by their countries for the contest in May; Switzerland, Finland, Denmark, Iceland, Norway were all given a bit of free publicity.
It seems nothing is simple these days, and LTV put the top three songs through to a 'superfinal'.  The finalists were:
Dons – My Religion Is Freedom
Ivo Grisnins Grislis – Because I Love You
Aisha – What For? (Only Mr.God Knows Why)
All three songs performed again and there was another round of televoting. The winning song, which will compete in the first semi-final on 25th May is………………… Aisha – What For? (Only Mr.God Knows Why)
The total result of the Latvian final can be seen in the screenshot below: