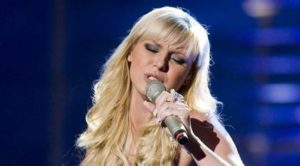 SVT presented 8 more acts today that will take part in Melodifestivalen 2011. The most well known name from the previous editions of Melodifestivalen is Sanna Nielsen while Melody Club is a well known pop band in Sweden that will make their first appearance in Melodifestivalen.
Song title: I'm in Love
Composer: Bobby Ljunggren, Thomas G:son, Irini Michas, Peter Boström
Artist: Sanna Nielsen
Sanna Nielsen will make her 6th appearance in Melodifestivalen. She was 3rd in Melodifestivalen 2001 with "Igår idag", 5th in MF 2003 with "Hela världen för mig", 8th in 2005 when she sang "Du och jag mot världen" with Fredrik Kempe, 7th in MF 2007 with "Vågar du, vågar jag" and she came 2nd in 2008 with "Empty room".
Song title: The Hunter
Composers: Kristofer Östergren, Erik Stenemo, Jon Axelsson, Niklas Stenemo (Melody Club)
Artist: Melody Club
Melody Club is pop group that was formed in 2000. They had their breakthrough in Sweden in 2002 and after that they had several chart hits. They are currently working on their fifth album.
Song title: In the Club
Composers: Figge Boström, Peter Boström, Danny Saucedo
Artist: Danny
Danny is a singer and composer and got his breakthrough in the swedish Idol 2006. Together with Erik Segerstedt and Mattias Andréasson tey formed the group E.M.D, who were 3rd in Melodifestivalen 2009 with "Baby Goodbye".
Song title: Try Again
Composers: Niklas Pettersson, Linda Sonnvik
Artist: Dilba
Dilba came from Turkey to Sweden at the age of four. In 1996 she released her debut album and in 1997 she had a mega hit in Sweden with "I'm sorry" who topped the charts for a very long time.  
Song title: Enemy
Composers: Niclas Lundin, Anton Malmberg Hård af Segerstad
Artist: Sara Lumholdt
Sara was member in the pop group A-teens during the years 1998 and 2004.
Song title: My Heart Is Refusing Me
Composers: Moh Denebi, Björn Djupström, Loreen
Artist: Loreen
Loreen or Lorén Talhaoui as her real name is was known to the Swedish viewers in 2004 when she participated in Swedish Idol. In 2005 she released the single "The snake" together with the Swedish group Rob'n'Raz. Loreen works as a host at Swedish TV channel "TV400" and has also worked behind the camera with Swedish tv-shows such as "Matakuten" and "Familjen annorlunda". This is Loreen's debut in Melodifestivalen.
Song title: Social Butterfly
Composers: Amir Aly, Henrik Wikström
Artist: Rasmus Viberg
This is Rasmus Vibergs debut in Melodifestivalen. He started his first band "Oldschool" during upper secondary school. They have been on a tour in Africa and was among the best bands in the music festival "Emergenza".
Song title: Tid att andas
Composer: Fredrik Kempe
Artist: Simon Forsberg
Simon Forsberg participated in the Swedish reality show "Fame Factory" a couple
of years ago but was one of the first contestants voted off. This is his debut in
Melodifestivalen. Simon works as a personal trainer and has his own business, he is
also a successful runner. Simon was crowned Mr Gay Sweden 2010.
Special thanks to Viktoria Karlsson who contributed with information for this article.