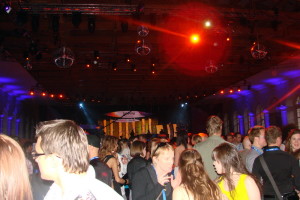 The tradition welcome reception had been transformed into a gigantic party where several former participants, including a lot of winners, performed. In seven videos EuroVisionary show you performances from Dana International, Marija Serifovic, Teach-In, Dschinghis Khan, t.A.T.u, Dima Bilan, Carola and Ruslana.
The official opening of the 2009 Eurovision Song Contest took place last night. Those who have been going in recent years those that this is normally a very formal reception. Russia decided to do things differently and offered a party of gigantic dimensions. The very first Eurovision Song Contest winner from 1956, Lys Assia was there, Teach-In who won for the Netherlands in 1975 as well plus Dschinghis Khan who represented Germany in 1979.
From the recent years we saw performances from Israel's Dana International who won the Contest in 1998, legendary Carola who won in 1991 and participated as well in 1983 and 2006, t.A.T.u that came third for Russia in 2003, Ruslana and her 2004 winner Wild Dances, 2007 winner Serbian Marija Serifovic and last year's winner Dima Bilan who performed both of his entries.
In the seven videos below you'll find:
1: Ruslana – Wild Dances
2: Carola – Invincible, Främling and Fångad Av En Stormvind
3: Dima Bilan – Never Ever Let You Go and Believe

4: t.A.T.u – Nje Vjer, Nje Bojsa 
5: Dschinghis Khan – Dschinghis Khan

6: Teach-In – Dinge Dong
7: Dana International – Diva and Marija Serifovic – Molitva