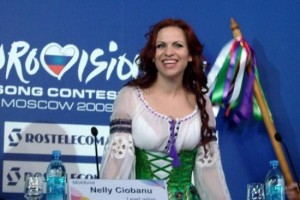 The period of submitting entries came to an end in Moldovan selection process. Yesterday, the national broadcaster TRM revealed the list of approved entries, which is a total of sixty, including former Moldovan representative in 2009 Nelly Ciobanu and 2008 representative Geta Burlacu making a return this year.
After the deadline of the "call for the songs" period has passed in Moldovan selection process, the national broadcaster TRM revealed the list of approved entries for the second tour. These entries are (in alphabetical order):
Adrian Ursu – Be Yourself
Adriano – Love is A Fire
AKORD – Live the Show
Alexandru Manciu – If You Leave
Alisa Gangan – Fly With Me
Andrei Movila & Crazy Dancers – In Love With the Demon
Anna Gulko – Ballad of Love
Bazil – Stii Tu Oare
Constantinova Anna & Synops – Game
Corina Cuniuc – With You
Cristina Croitoru – Fight for Love
Cristy Rouge – Doar al Meu
Danu Boian – Destination
Dara – Open Your Eyes
De Lissa – Oh, Mommy
Diana Grigor – Tonight
Doinita Gherman – Welcome to Moldova
EDICT – I will Find My Way
El Pepino Feliz – Do It for Me
EL Radu – I'm With You Now
Felicia Dunaf – Love is Time
Formatia Bingagroove – Take a Break
Formatia Bingagroove – Switch On
Future Vision – Night is Over
Georgeta Voinovan & A. Leahu – De Departe
Geta Burlacu – The Colors of My Heart
Geta Burlacu – Never Ever Stop
Geta Burlacu – Trust Me (I Like You)
Human Place – Struck in Mind
INAYA – Lights
Irina Remesh – Iluzii Desarte
Irina Tarasiuc & MC Gootsa – Save a Little Sunshine
Kara Nadejda – Unbreakable
Katalina Rusu – Next to You
Katalina Rusu – My Name is Love
Katalina Rusu – Heaven is Here
Ksenya Nikora – You Better Rush
Leria – A ray of sun
Lidia Isac – My fortune hunter
Live Beat – Save the world
M Studio – Open your eyes
Mariana Mihaila – Live on forever
MC Mike & Human Place – Moll girl
Nelly Ciobanu – Turn on the light
Nicoleta Gavlilita & Serghei Bilicenco – Crazy little thing
Paralela 47 – Arde
Pasha Parfeny – Lautar
Rain Catchers – Click
Ruslan Taranu – Blanshe
Sasha Bognibov – Nu stiu de ce
Silvia Allegro – Never be the same
Sophie Gainsbourg – I wanna smoke a cigarette
Svetlana Dumbrava – Phoenix
Transbalkanica – Balkan riders
Univox – Moody numbers
Valentin Uzun – Urare de bine
Vasile Muntean – No more
Veronika – Lonely blues
Vic Storm Lozik – Dark room
Vitalii Maciunschi & Iana Corsac – Prayer
That means, two of former representative names in Moldova makes a return to represent their countries at the Eurovision Song Contest once again. Nelly Ciobanu represented this country with the song Hora Din Moldova in Moscow 2009, which resulted in a 14th placing. This year Nelly will try once again to represent her country with the song Turn On the Light.
Another former representative Geta Burlacu had this honour with the song A Century of Love in Belgrade 2008, but she didn't manage to qualify to the final. This time Geta is back to selections with three entries: The Colours of My Heart, Never Ever Stop and Trust Me (I Like You). The songs can be found on TRM's official website.
The second tour in Moldovan selections will be held on January 29th and all the approved sixty entries will be performed in front of the expert jury with seven members from different professions. The jury members are:
Olga Ciolacu – singer
Igor Dinga – producer and composer
Valentin Boghean – musician, actor and composer
Tatiana Cerga – singer
Andrei Sava – composer
Victoria Tcacenco – music professor from Theatre and Fine Arts Academy
Dana Argint – representative of Orange Moldova 
The criitrias for the process will be singing, originality, composition of the song and availibity of regualiton. After this audition process 20 entries will qualify from second tour to the final stage. At the same the time the broadcaster will go to an internet voting process to decide the 21st act to compete in the final. This process will last twelve days, between 1st and 12th of February. The final show in Moldova will be held on March, 10th.
You can also watch the representing songs of Nelly Ciobanu and Geta Burlacu below.