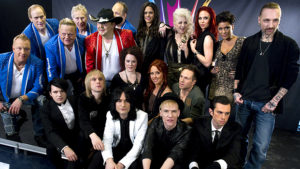 In the last three years, the fourth heat of Melodifestivalen has brought us the song that represented Sweden in the Eurovision song contest. Will it be a fourth time? Here we will take a closer look at the eight acts competing on Saturday.
Song 1. Melody Club – The Hunter
Composers: Kristofer Östergren, Erik Stenemo, Jon Axelsson, Niklas Stenemo
Melody club is a well-known pop group in Sweden who also had their songs played on norwegian, danish, german and japanese radio stations. They formed in 2000 and had their breakthrough in 2002 with the song "Palace Station" from their first album Music Machine. Another hit from this album was the song "Electric".
In 2004 the album Face the music was released with song like "Baby" and "Boys in the girlsroom" getting a lot of radio airplay.
The groups third album Scream was released in 2006, the most well known songs from this album was "Destiny calling" and "Fever fever".
A fourth album called Goodbye to romance was out in 2009.
This will be Melody Clubs first appearance in Melodifestivalen.
Song 2. Julia Alvgard – Better or worse
Composers: Julia Alvgard, Manne Hjelm, Ola Holstad, Joar Lenz
Julia is one of the two web jokers (the other one was Jonas Matssons "On my own") who managed to win the qualification round and advance to the semifinals of Melodifestivalen.
Julia is currently studying at the Royal college of music and has sung mostly soul and pop.
Song 3. Lasse Stefanz – En blick och nånting händer
Composers: Alexander Bard, Ola Håkansson, Tim Norell
Lasse Stefanz has a long and successful career. The group was formed 1967 and have been playing ever since. They have released several albums in Sweden and some of them have sold gold or even platinum. This is their debut in Melodifestivalen.
Song 4. Linda Pritchard – Alive
Composers: Oscar Görres, Fredrik Kempe
Linda is a singer and professional dance. She appeared in the early rounds of Swedish Idol 2008.
She is taking part as a singer for the 2nd time in Melodifestivalen, the first was in 2008 with the song "You're making me hot-hot-hot" (did not qualify to the final) and she also appeared on stage as a dancer in 2006 and 2008.
Song 5. Anders Fernette – Run
Composers: Desmond Child, Negin Djafari, Hugo Lira, Ian-Paolo Lira,
Thomas Gustafsson
Anders Fernett (or Anders Johansson as his full name was until 2009) won the swedish talent/reality show Fame Factory in 2003. His debut album If it's all I ever do sold gold and the single "Without you" was a hit in Sweden. During 2007 – 2010 he released singles and some of them got a lot of radio airplay.
Song 6. Linda Bengtzing – E de fel på mig
Composers: Pontus Assarsson, Thomas G:son, Jörgen Ringqvist, Daniel Barkman
Linda Bengtzing has become something of an icon of Melodifestivalen after the three previous times she took part in the compeition. t began in 2005 when she, unknown to the swedish audience, finished 9th with the song "Alla flickor". In 2006 Linda was back with the song "Jag ljuger så bra" and finished 7th and released the album Ingenting att förlora. In 2008 she came 5th with the song "Hur svårt kan det va" and released her second album Vild & galen.
Song 7. Nicke Borg – Leaving Home
Composers:Jojo Borg Larsson, Nicke Borg, Fredrik Thomander,
Anders "Gary" Wikström
Nicke Borg is the lead vocalist and guitarist for the band punk band Backyard Babies. Since Backyard Babies are on a break he has been on a solo project called Homeland.
Song 8. Love Generation – Dance Alone
Composers: RedOne (Nadir Khayat), Bilal "The Chief", Teddy Sky, AJ Junior,
Jimmy Joker, BeatGeek
Love Generation is an all female pop group formed in 2010. One of people behind the group is the Moroccan hit producer RedOne, who wrote and produces Lady Gagas "Just Dance". The group consists of the four members Mikaela, Cornelia, Charly Q and Melanie. The girls was picked through an audition with over 500 contestants. The making of their first single started the same day as the auditions were finished.
In a preview program at http://svt.se/melodifestivalen on Thursday evening 21.00-21.30 CET there will be about 60 seconds from the rehearsals of each song. On Saturday at 14.00 CET you will be able to listen to the whole songs at the same website and the show itself will start at 21.00.