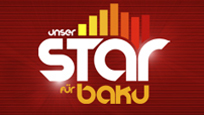 The German search for a representative for Baku continues. Tonight we saw the fourth of eight shows of Unser Star für Baku. Due to some criticism about the live voting ProSieben slightly changed the voting procedure. At the end the televoters decided that Sebastian Dey and Umut Anil had to leave the show.
At the beginning of the show we had the same procedure like in the weeks before. The particpants came on stage to introduce themselves. Afterwards the numbers for televoting were revealed and lines were opened to determine tonight's running order.
The songs:
1) Sebastian Dey – Hey hey hey
Just like last week Sebastian is the only participant who does not sing a cover version, but a song written by himself. Hey hey hey is a midtempo song with some reggae influences. The lyrics are in German and the vocal performance is good. Thomas, Alina and Stefan from the jury liked the performance. Stefan says that he needs 30 seconds to get used to Sebastian's voice. He finds the lyrics of Sebastian's self-written songs funny, but he doubts that this would be the right choice for Baku, as the lyrics will hardly be understood by the international viewers.
2) Katja Petri – The 59 Sound (The Gaslight Anthem)
In her first two appearances Katja chose ballads to perform. Last week the jury asked her to do something completely different and so Katja picked a rock song this time. She sings well and confident, but during her performance it appears that her voice fits more to a ballad. Stefan found the performance fresh, but thought that Katja is not the typical rock singer. In contrast to that Thomas liked this performance more than Katja's performances when she played the guitar. Alina finally stated that it is remarkable that Katja is able to give every song a personal note.
3) Céline Huber – Right to be wrong (Joss Stone)
Céline presents herself in a totally different outfit today. In her first two appearances she wore dresses with her hair put in a bun. Tonight we see her for the first time in jeans and with open hair. Céline delivers a very strong vocally performance to this soul ballad. The jury was satisfied with the performance, but pointed out that Céline is almost too perfect. She should allow herself to make mistakes so that her performances get a little bit more interesting. 
4) Umut Anil – Someone like you (Adele)
Umut gives a very emotional and individual performance of Adele's Something like you. He sits on a stool and accompanies himself with the guitar. Again there are very good vocal parts including some oriental influences, but the next moment Umut fails to hit the notes. This is something the jury already criticized last week. How would they judge today? While Thomas liked Umut's insecurity Alina and Stefan criticized it once more. Stefan said that the performance was not bad, but Umut could do better. He also adviced that Umut should go for something different in the next shows.
5) Shelly Philipps – Waterfalls (TLC)
After two very confident performances Shelly starts very weak during the verses. The chorus is sung better, but still the power in her voice seems to be missing today. During the rap part in the middle of the song she is very convincing. Thomas outed himself as a Shelly fan and liked the performance very much. Alina and Stefan agreed and thought that Shelly appeared more grown up tonight.
6) Ornella de Santis – Try (Nelly Furtado)
Like in the shows before Ornella again stands out because of her very extraordinary voice. She delivers a very emotional performance of the song and even gets some applause after the first chorus. Alina praised that Ornella knows very well to interprete a song. Stefan personally did not like the song, but agreed with Alina about Ornella's ability for interpretation. Thomas said that Ornella always sings very well and told the audience that she had been ill and could not sing at all only two days before the show.
7) Yana Gercke – Titanium (David Guetta)
Yana delivers her own version of this song which starts very slowly and becomes uptempo with the second verse. For the first time we could hear
some insecurity in Yana's voice. She has problems to hit the higher notes, but the audience likes it though. So far she receives the biggest applause and goes straight up to no. 1. Thomas said that he was scared during the rehearsals because this song was difficult to sing. He liked Yana's performance a lot. Alina and Stefan shared his opinion. Yana seems to be getting more and more one of the favourites to win the ticket to Baku.
8) Roman Lob – Drops of Jupiter (Train)
Again Roman was voted last to perform. And again he gives an outstanding and flawless performance. His voice sounds very emotional in the verses while he shows the full power of this voice during the chorus. Thomas and Stefan both said that Roman is very special because he is just himself. Alina agreed, but would like to see something different (more groovy) from him in the next show.
The results:
As there has been some criticism about the live voting ProSieben decided about some changes. There was a countdown of one minute and the artist who was no. 1 after this minute directly qualified for the next show. This procedure was repeated until there were just two artists left who would finally have to leave the show:
Sebastian Dey
Umut Anil
The remaining six artists will compete again on Monday, February 6th, 2012.