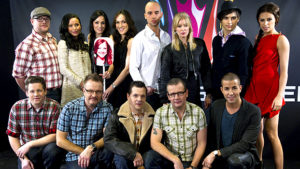 The search after an artist who can represent the Swedish colors in Dusseldorf and once again bring the victory back to Sweden continues. This week we will meet several debutants, a few artists that have participated once or twice and one artist that has participated no less than four times.
Song number 1: Linda Sundblad – Lucky you (Linda Sundblad, Johan Bobäck, Fredrik Thomander, Anders Wikström)
Linda Sundblad was only a teenager when she reached success with her band Lambretta in 1999. They've had hits such as Blow my fuses, Creep and Bimbo. In 2006 Linda decided to leave the band to pursue a solo career. Since then she has released two albums Oh my god! (2006) and Manifest (2010). In 2010 Linda sang her song Let's dance in the semi final of the Swedish TV-show with the same name.  Linda Sundblad is also a composer and has written songs for artists as Darin and Elin Lanto. Neither Linda or her co-composers have participated in Melodifestivalen before. One of the composers Johan Bobäck is one of the producers for the music to the American television series Glee. Fredrik Thomander and Anders Wikström have written songs for former Melodifestivalen participants Darin and Agnes Carlsson among others.
Song number 2: Simon Forsberg – Tid att andas (Fredrik Kempe)
His father is a music teacher at one of the local high schools in Simon's home town, so it's probably not a coincidence that Simon started to sing. Singing is not surprisingly one of Simon's big interests. A couple of years ago Simon entered the Swedish reality show Fame factory. And he is in good company, former Melodifestivalen participants Jessica Andersson, Magnus Bäcklund, Linda Bengtzing and Johan Becker all has a past in the same show. One of Simon's other big interests is running, he competes on national level in 60 meters and 100 meters. Simon's composer Fredrik Kempe, is well known to the Swedish viewers, he wrote Charlotte Perrellis Hero, Malena Ernmans La voix and Eric Saades Manboy just to mention a few songs.
Song number 3: Sara Lumholdt – Enemy (Niclas Lundin, Anton Malmberg Hård af Segerstad)
Sara Lumholdt has something in common with one of this year's hosts of Melodifestivalen, Marie Serneholt, as both of then started their careers in the group A-teens singing ABBA covers. When A-teens disbanded in 2004 Sara decided to take a break from the spotlight for a while. In 2007 she released a few singles under the stage name Sara Love, but in 2008 she decided to change it to her real name, Sara Lumholt. This is Sara's debut in Melodifestivalen. One of her composer's Anton Malmberg Hård af Segerstad also composed Le Kid's song Oh my god from the first Swedish semi final. He is also a member of the group. Niclas Lundin was one of the co-composers to Erik Linder's song Hur kan jag tro på kärlek in Melodifestivalen 2010.
Song number 4: The Playtones – The King (Fredrik Kempe, Peter Kvint)
The band was formed in 2008 and consists of five members: Stefan Johansson (vocals, piano, acoustic guitar), Andreas Carlsson (guitar, choir), Per Sennerhall (drums), Peter Andersson (steelguitar), Mattias Schertell (bass, contrabass). They participated in the TV broadcasted competition Dansbandskampen in 2009 and won. The Playtones composers is both famous in this context, Fredrik Kempe composed both Charlotte Perrelli's Hero and Malena Ernman's La voix and he will compete with two more songs on Saturday. Peter Kvint composed Andreas Johnson's song Sing for me in 2006 and One love sung by Andreas Johnson och Carola just to mention a few. 
Song number 5: Shirley´s Angels – I Thought It Was Forever (Robin Abrahamsson, Alexander Bard, Bobby Ljunggren, Henrik Wikström)
Shirley's Angels consists of three members, Shirley Clamp, Vera Prada and Jessica Marberger. Shirley Clamp is a very popular artist in Sweden who's had a long and successful career. She has participated in Melodifestivalen 4 times before with the songs Mr Memory (2003), Min kärlek (2004), Att älska dig (2005) and Med hjärtat fyllt av ljus (2009). Vera Prada's debut in Melodifestivalen was as Nanne Grönwall's dancer when she participated with the song Avundsjuk in 1998. For four years she was the choreographer for all of the performances in Melodifestivalen but this is her debut as a participating artist. Jessica Marberger has been a member of the choir in Melodifestivalen for several years and has been involved in about 50 songs over the years. This is Jessicas' debut as a participating artist.
Song number 6: Sebastian – No One Else Could (Andreas Alfredsson Grube, Sebastian Karlsson)
Sebastian Karlsson is another one of the boys who's career took off when he participated in Swedish Idol in 2005. He finished second behind Agnes Carlsson (participated 2009 with the song Love, Love, Love). In 2007 he was praised with the Swedish music award Rockbjörnen in the category best newcomer. 2007 was also the year when he participated in Melodifestivalen the first time. His finished 8th in the final with his song When the night comes falling. Nor Sebastian's co-composer is a debutant in Melodifestivalen. He praticipated in 2009 with the song Jag ska slåss i dina kvarter sung by Lasse Lind och Bandet.
Song number 7: Sara Varga – Spring för livet (Sara Varga och Fredrik Boström)
Sara is a girl with many strings to her bow. She is a DJ, a composer, a singer, a painter and an author. She released her album Faith, Hope n Love in 2008 and the next one is about to be released soon. This is her debut in Melodifestivalen. In 2007 she released her book From being a frog to becoming a prince (in Swedish). On her website she describes it as a "handbook for men, how you as a man learn how women think". Sara has been DJing in all the hot clubs in Stockholm, like Spy Bar, Ambassadeur and Sturecompagniet. Sara Varga's co-composer Fredrik Boström composed Emilia Rydberg's You're my world in 2009 as well as Danny's song In the club from the first semi final of Melodifestivalen 2011.
Song number 8.:  Eric Saade – Popular (Fredrik Kempe)
This 20 year old has already made a name for himself in the music business in Sweden. His big breakthrough was in Melodifestivalen 2010 with the song Manboy. Coming from nowhere he finished 3rd behind Anna Bergendahl and Salem al Fakir. He released his first album Masquerade in May 2010. On his website ericsaade.com he describes himself as a control freak, a quality he thinks he has gotten as a child of divorced parents. When he, as a little boy saw Michael Jackson on TV, he decided that he also should sing. And as it turned out he had talent, and by the age of 13 he was discovered by a management that believed in him. There is a group on facebook dedicated to Eric called "The Swedish guy from Eurovision was so hot!" which has over 12 000 members (Eric was the one announcing the Swedish votes in Eurovision Song Contest 2010).
As well as the previous Thursday's the viewers will be given a chance to get a preview of this weeks songs tomorrow at 2100 CET. And on Saturday at 1400 CET you will be able to listen to the whole songs at SVT's website.