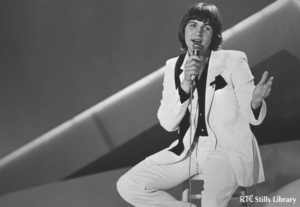 On this day 35 years ago Johnny Logan scooped his first Eurovision win singing the Shay Healy ballad What's Another Year in The Hague contest of 1980. It was Ireland's second win and the beginning of what would eventually write him into the history books and earn him the worthy title Mr Eurovision.
Following Israel's turning down of staging the contest two years in a row, and a refusal to stage by the BBC in the UK; The Netherlands stepped forward and agreed to stage the 25th song contest at the same venue as 1976 and brought out a familiar set from that contest which was reused due to budgetary and time constraints on the host broadcaster.
In Dublin in March the National Song Contest was held at RTÉ Studios and What's Another Year was a clear winner, finishing with a 19 point lead over the second placed entry of the eight entries performed. The song was a winner with the regional juries.
Having attempted to be the Irish entry in 1979 it was mission accomplished for Johnny Logan on this occasion and within 6 weeks all the entrants were in The Hague and Ireland performed 17th of 19 on the night of 19th April 1980.
Wearing a white suit and black shirt the 25 year old Australian-born Logan won the hearts and votes of Europe as the orchestra, conducted by Noel Kelehan performed the thoughtful and lonesome song.
The very next day the Irish delegation returned to Dublin as heroes and the win was celebrated across the country.
It was the start of his unrivalled legacy in the contest, following on from this win Johnny went on to tour and try and forge a career in music however he suffered some setbacks and ahead of his 1987 experience he was reported as being at a point of where things needed a boost and he was hungry for a second chance at a hit. Of course we all know how his future panned out.
To see that winning performance click on the video below
Johnny recently performed a medley of his Euro hits at the BBC staged Eurovision's Greatest Hits programme which is also attached below