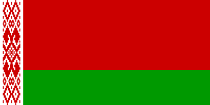 Belarusian national broadcaster BTRC has announced that group "3+2" will represent Belarus with the song "Far Away" at the Eurovision Song Contest in Oslo on May.
Artyom Mihalenko, Egiazar Farashyan, Yulia Shisko, Alyona and Ninel Karpovich are members of "3+2". The song is written by Leonid Shirin and Yury Vaschuk.
41 songs were submited to BTRC for Eurovision Song Contest 2010. Entries were sent in from besides Belarus but also Russia, Poland, Czech Republic, Hungary, Iceland, Ireland and Australia.
The best Belarus result was in Helsinki in 2007 with Work Your Magic. Dmitry Koldun finished 6th with 145 points. Last year's winner Alexander Rybak represented Norway was born in Belarus.