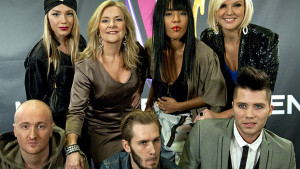 The second heat of the swedish national selction, known as Melodifestivalen, takes place on Saturday the 12th of February in the city who hosted the Eurovision song contest in 1985 – Göteborg (Gothenburg). This heat includes 6 newcomers to Melodifestivalen but also a young veteran of Melodifestivalen and a former Eurovision-winner.
Song 1. Brolle – 7 Days And 7 Nights
Composer: Brolle
Brolle, or Kjell Junior Wallmark as his real name is, has been a well known name for the Swedish audience since many years. He has composed his own songs since the age of 16 and he took part in the talent show Popstars in 2001. The year after he released his debut single "Playing with fire". This will be the first time that Brolle takes part in Melodifestivalen.
Song 2. Loreen – My Heart is Refusing Me
Composers: Moh Denebi, Björn Djupström, Loreen
Loreen, or Lorén Talhaoui as her real name is, was known to the Swedish viewers in 2004 when she participated in Swedish Idol (she came 4th). In 2005 she released the single "The snake" together with the Swedish group Rob'n'Raz. Loreen works as a host at Swedish TV channel "TV400" and has also worked behind the camera with Swedish tv-shows such as "Matakuten" and "Familjen annorlunda". This is Loreen's debut in Melodifestivalen.
Song 3. Babsan – Ge mig en spanjor
Composers: Larry Forsberg, Sven-Inge Sjöberg, Lennart Wastesson
The drag artist Babsan, or Lars-Åke Wilhelmsson, is a well known swedish personality. The song writing team are the same that wrote "La Dolce vita" who came 3rd in Melodifestivalen 2004.
Song 4. Elisabeth Andreassen – Vaken i en dröm
Composers: Lars "Dille" Diedricson, Calle Kindbom, Kristian Wejshag
Former Eurovision-winner Elisabeth Andreassen is no newcomer to Melodifestivalen. She made her debut in 1981 when she formed the group Chips together with Kicki Danielsson (Sweden 81 & 85). The song "God morgon" came 2nd behind Björn Skifs "Fångad i en dröm". Chips returned in 1982 and won with the song "Dag efter dag". They got to represent Sweden in Harrogate, where they ended 8th.
Elisabeth returned to Melodifestivalen as a solo artist in 1984 with the song "Kärleksmagi" (failed to reach top 5). In 1985 she formed the group Bobbysocks who went to represent Norway at the Eurovision song contest. Their song "La de swinge" also won the contest that year. Elisabeth was back in Melodifestivalen in 1990 where she came 7th with the song "Jag ser en stjärna falla".
In 1994 she took part for Norway again in the Eurovision to perform the song "Duett" together with Jan Werner Danielsen (6th place). In 1996 she came 2nd in the contest with the song "I evighet". After coming second in the norwegian selection in 1998, Elisabeth returned to Melodifestivalen in 2002. Together with Kicki Danielsson and Lotta Engberg she sang "Vem é dé du vill ha" (3rd place). Together with Kicki & Lotta she also came fourth in the norwegian selection the year after.
Song 5. Sanna Nielsen – I'm in Love
Composers: Bobby Ljunggren, Thomas G:son, Irini Michas, Peter Boström
Sanna Nielsen is making her 6th appearance in Melodifestivalen. She was 3rd in Melodifestivalen 2001 with "Igår idag", 5th in MF 2003 with "Hela världen för mig", 8th in 2005 when she sang "Du och jag mot världen" together with Fredrik Kempe and 7th in MF 2007 with "Vågar du, vågar jag". In her latest appearance in 2008 she came 2nd with the song "Empty room" which received more televotes than Charlotte Perrellis "Hero" but failed to win since Charlotte gained more points from the jury groups.
Song 6. The Moniker – Oh My God!
Composer: Daniel Larsson
Behind the artist name The Moniker is Daniel Karlsson. He participated in Swedish Idol in 2007 (he came 4th). He released the single "Would you believe?" in october 2008.
Song 7. Anniela – Elektrisk
Composers: Johan Alkenäs, Tim Larsson, Tobias Lundgren, Johan Fransson
Anniela is a young pop singer. In 2009 she released her debut album Extravaganza. The album was released in several countries. Her music is international electro pop/dance with elements of R&B. 3 out of 4 songwriters in the song writing team are the same people who wrote "Alla Flickor" (MF 2005) and "Hur svårt kan det va" (MF 2008) for Linda Bengtzing.
Song 8. Christian Walz – Like Suicide
Composers: Fernando Fuentes, Henrik Janson, Tony Nilsson
Christan released his first album Christian Walz in 1999. In 2004 he released his second album Paint by numbers and had hits with the songs "Wonderchild" and "Never be afraid again" which resulted in four Grammis Awards (swedish equivalent of the Grammy Awards) and a Grammis for best pop. His third album The Corner was released in the autumn of 2008.
In the preview program at http://svt.se/melodifestivalen on Thursday evening 21.00-21.30 CET there will be about 60 seconds from the rehearsals of each song.