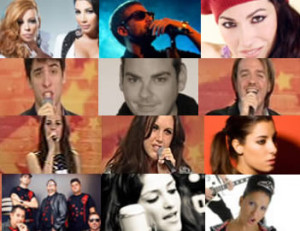 A new batch of twelve hopefuls will battle it out to become one of the five singers to qualify for the semi-final and they will join the five selected already. There are, as in the previous heat, artists with different backgrounds and they represent many different musical genres. Get to know them!
Five acts had qualified last Friday to compete in the semi-final stage of Destino Eurovisión. More than 2 million viewers watched the extraordinary show and, via televoting, they chose David Sancho, Auryn and Lucía Pérez. The other two acts qualified were Da Igual and Gio, chosen by the jury members. While waiting for Friday night, it's time to get to know the next twelve hopefuls.
Alazán – Sara and Encarna are aunt and niece. This is not the first time they are trying to go to the Eurovision Song Contest. In 2000, they finished fifth in the Spanish selection with Alcanzarás La Luna wich became a smash hit in Spain. They are artists since they were born and they have a long family tradition in the music business. In fact, their aunts, the sister duo Azúcar Moreno were the Spanish representatives in 1990 Eurovision Song Contest performing the song Bandido which took the fifth place.
Don Johnson's – Job Vives, Jessé, Bruno Alonso, Edu Pérez and Marcel Alonso are the members of Don Johnson's who aspire to represent Spain with a strong and lively song. They play a sexy and saucy pop-rock and people call them "the Backstreet Boys of rock & roll". The goal of this band is, above all, to write good songs and to entertain the audience. Nowadays, they are recording their debut album wich will be released in a few months.
Esmeralda Grao – She is a singer and songwriter from Alicante. As a singer, she has a long history. She has recorded five studio albums, she has participated in several musical shows and she has worked with some of the most important Spanish artists. Esmeralda began studying music theory, playing guitar and singing when she was just eight years old. In 1994 she was the winner of the Benidorm Song Contest and, since then, she combines her singing career with her work as stage actress.
Lorena Rosales – She is twenty years old and she narrowly failed to participate in the Junior Eurovision Song Contest some years ago. She study in a Dance and Musical Comedy School and she went to the audition with her own dance troupe, the group Soul Dance.
Melissa – She is twenty-two years old and she has already demonstrated her musical talent on television when she participated in a TV show called Operación Triunfo four years ago. She has studied opera singing and pop style. She lives in the countryside with her parents (a builder and a homemaker) and her younger brother. She spends her free time singing, dancing and going out with her friends.
Mónica Guech – She was born in Liverpool but, when she was two years old, her family moved to Barcelona. When she was twelve years old, she started studying classical piano and vocal technique and she began singing jazz, funk and rock in amateur musical groups. Later, she joined the choir Gospel Femeni and, nowadays, she composes and sings her own songs. Her goal is to transmit her boundless energy to make the audience connect with the freedom of music.
Pau Quero – He is from Barcelona and he is studing audiovisual production. Recently he has participated in the play Édip Rei Del Pop, a musical show tribute to Michael Jackson. Pau came as a surprise to the expert committee with a very personal voice.
Sebas – He was born in Granada 24 years ago and he grew up singing in front of the bathroom mirror. He works as cabin crew but has also been working as a professional singer for the last five years with a band doing concerts all over Spain. He decided to take part in the auditions for the Spanish selection because he has always been a huge fan of the contest. For him, representing Spain in the Eurovision Song Contest, would mean to get what he has been dreaming of since he was four years old.
Sergi Albert – He was born in Barcelona thirty-seven years ago. He is a Tourism graduate and he has studied singing and music theory for four years. He has a passion for theatre and he has participated in several plays such as Sea and Sky or Rise and Fall of the City of Mahagonny. He has also worked in musical shows like Beauty and the Beast, Spamalot or Jesus Christ Superstar. After his long career on stage, now, he is more than ready to face the challenge to represent Spain in the Eurovision Song Contest.
Sometimes – Gus, Cris, Yauci, John and Vicen are the members of this band who perform musical hits a cappella. They are well known in Spain because they participated in the Spanish version of the X Factor TV show four years ago and, thanks to their success on television, they have traveled around the world with their music.
Valeria Antonella – She is from México but moved to Madrid four years ago. She has a youthful, sweet and positive style. Some people think that she reminds them of Julieta Venegas. Valeria has no record deal but, thanks to the miracle of the Internet, she can share her music with everyone on her own web site.
We – Ana María Gañarul Pérez and Julio César Sánchez make up We. Their deep and clear voices are the hallmark of this duo, a boy/girl couple who play songs full of excitement and positive energy.
The twelve participants will perform hits from the Eurovision Song Contest. The show, that will take place in San Cugat del Vallés (Barcelona), will be presented once again by Anne Igartiburu, and Daniel Diges, 2010 Spanish representative, who will be reporting from backstage.
You can watch the second heat of Destino Eurovisión next Friday 4th of February at 22:15 CET on TVE-1 or through the official webcast.