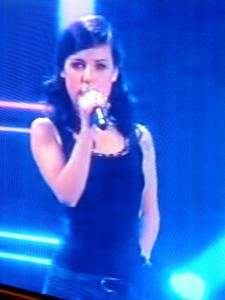 The next stage of the Unser Star für Oslo to decide the German performer at the Eurovision Song Contest 2010 took part tonight. Eight acts competed and 2 performers left the competition.
The performers
Katrin Walter
Sharyhan Osman
Cyril Krueger
Jennifer Braun
Christian Durstewitz
Lena Meyer-Landrut
Kerstin Freking
Leon Taylor

The guest judges with Stefan Raab were Cassandra Steen (a popular German r&b singer and Sasha (as successful German singer for over 10 years). Cassandra Steen now talks abou her experience with Ne-Yo with whom she has recently recorded a song. Sasha is being aked if a musician has to be able to perform songs in many different styles as he himself has performed songs in various different genres.

1. Katrin Walter performed Love Song by Sara Bareilles. This was a great start to the show. Katrin's vocals were very strong and she gave a lively performance.

2. Sharyhan Osman sang Is You Or Is You Ain't My Baby by Louis Jordan. This was an old standard jazz and blues song given a modern interpretation by Sharyhan. Another fine performance by Sharyhan.
3. Cyril Krueger sang Beautiful Day by U2. A difficult song to perform for Cyril who struggled a little with this. He still gave a good performance and has a pop star look to him.

4. Jennifer Braun performed I'm With You by Avril Lavigne. Jennifer was a little nervous tonight but she still managed to give some strong vocals to this Avril Lavigne rock type ballad.

5. Christian Durstewitz sang his own song Another Night. Christian is one of the favourites for this competition. Tonight he showed his versatility with this ballad.

6. Lena Meyer-Landrut performed Foundations by Kate Nash. Lena is always very enthusiastic and bubbly. She gave her own unique performance to this big UK hit from 2 years ago. Lena is very different to all the other acts and must stand a great chance of going far in this competition.
7. Kerstin Freking sang Thank You by Alanis Morissette. Kerstin is emerging as a 'dark horse' in this show. She consistently performs very well. This is a great version of Alanis Morrissette's song.

8. Leon Taylor performed Are You Gonna Go My Way by Lenny Kravitz. Leon performed an uptempo rock/soul song. He has a strong voice.
So, after the televoting was concluded the acts through to the next stage are
Kerstin Freking
Leon Taylor
Lena Meyer-Landrut
Sharyhan Osman
Christian Durstewitz
Jennifer Braun