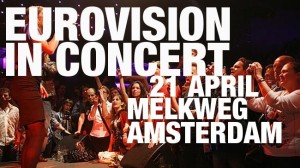 Last evening Sabine Babayeva and Kurt Calleja was revaled also to be at Eurovision In Concert. 24 out of this year's 42 Eurovision Song Contest participants have now been confirmed to perform at the preview concert in Amsterdam a few weeks before the whole circus move to Baku.  
Eurovision In Concert 2012 will take place in Amsterdam on the 21st of April. It is hosted by Cornald Mass and Ruth Jacott. The latter represented the Netherlands at the 1993 Eurovision Song Contest coming 6th with the song Vrede. 
The 24 participants that will perform at the 2012 edition of Eurovision In Concert are:
Azerbiajan: Sabine Babayeva – When The Music Dies
Malta: Kurt Calleja – This Is The Night 
Greece: Eleftheria Eleftheriou – Aphrodisiac
Romania: Mandinga – Zaleilah
FYR Macedonia: Kaliopi – Crno E Belo
Latvia: Anmary – Beautiful Song
Albania: Rona Nishliu – Suus
Finland: Pernilla – När Jag Blundar
Bulgaria: Sofi Marinova – Love Unlimited
Spain: Pastora Soler – Quédate Conmigo (Stay With Me)
Ireland: Jedward – Waterline
Lithuania: Donny Montell – Love Is Blind
Austria: Trackshittaz – Woki Mit Deim Popo
The Netherlands: Joan Franka – You & Me 
Ukraine: Gaitana – Be My Guest
Hungary: Compact Disco – Sounds Of Our Hearts
Slovenia: Eva Boto – Verjamem
Georgia: Anri Jokhadze – I'm A Joker
Belgium: Iris – Would You?
France: Anggun – Echo (You And I)
Switzerland: Sinplus – Unbreakable
Turkey: Can Bonomo – Love Me Back
Cyprus: Ivi Adamou – La La Love
San Marino: Valentina Monetta – The Social Network Song (Oh Oh – Uh – Oh Oh)
Visit Eurovision In Concert's website for more information and ticketsale.