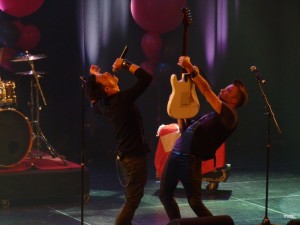 More than half of this year's Eurovision Song Contest participants made their appearance at the 4th edition of Eurovision In Concert last night. A sold out crowd had a great party to 23 of the entries that will soon compete in Baku. See or re-live it via our 3D videos. 
24 acts were advertised to show off their skills at Eurovision In Concert, but as Ukraine didn't show off only 23 of this year's Eurovision Song Contest performed in Amsterdam, the Netherlands. This however didn't it any less of a great concert where also the co-host Ruth Jacott sang her 1993 Eurovision Song Contest entry and a fan classic; Vrede. That song opened the whole party and was afterwards followed by Greece's Eleftheria Eleftheriou. As ending acts, before many of the fans went over to the afterparty, first Jedward and then Joan Franka gave them all something to go home on. Jedward was even so hard to get off stage that they after the performance of Waterline went straight over to their 2011 entry; Lipstick. Later she was joined on stage by former Dutch spokes person Paul de Leeuw. Together they sang Blijf Bij Mij.
As announced a few days ago then EuroVisionary will as the first media ever be bringing videos from the Eurovision Song Contest in 3D. In order to prepare for that we took this new technology in use already in Amsterdam. The experience we got here will help us to bring an even more outstanding result in Baku.
Below you find all of performances in a playlist. They are recorded as true 3D double HD, but as the 3D can be easily turned off when watching it, you shouldn't feel left out if you don't have the required glasses or the specialized hardware. If you are able to watch 3D we can however strongly recommend that you check out for example the Romanian Zaleilah by Madinga to show just what 3D can add to a video.
Subscribe to our youtube channel to keep yourself updated on our coming videos.