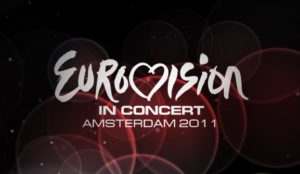 There are officially 21 Eurovision hopefuls attending Eurovision in Concert on April 9th. The most excitement came from one of the three new additions; the United Kingdom with Blue. The further 2 acts confirmed were Croatia with Daria Kinzer and Greece with Loucas Yiorkas ft. Stereo Mike.
Eurovision in Concert is the most popular and respected Eurovision Song Contest preview party of the year despite its short history (this year being it's third)! The venue for 2011 is Club AIR located in Central Amsterdam with fans and press from all over Europe attending.
The current line up featuring 21 acts can be seen below:
United Kingdom: Blue – I Can
Croatia: Daria Kinzer – Celebrate
Greece: Loucas Yiorkas ft. Stereo Mike – Watch My Dance
Russia: Alexey Vorobyov – Get You
Ukraine: Mika Newton – Angel
Malta: Glen Vella – One Life
Austria: Nadine Beiler – The Secret Is Love
Poland: Magdalena Tul – Jestem
Serbia: Nina – Čaroban
Latvia: Musiqq – Angel in Disguise
FYR Macedonia: Vlatko Illievski – Rusinka
Bulgaria: Poli Genova – Na Inat
Slovenia: Maja Keuc – No One
Turkey: Yüksek Sadakat – Live It Up
Belarus: Anastasia Vinnikova – I Love Belarus
Cyprus: Christos Mylordos – San Aggelos S'Agapisas
Finland: Paradise Oskar – Da Da Dam
Switzerland: Anna Rossinelli – In Love For A While
Albania: Aurela Gace – Feel the Passion
Armenia: Emmy – Boom Boom
San Marino: Senit – Stand By
EuroVisionary will be attending Eurovision in Concert, Amsterdam providing videos and photographs for your viewing featuring participants from the day programme and songs from the concert itself, just like last year.
Tickets are still available for Eurovision in Concert at €25,00. You can purchase them by following the link at the end of the article. The official website for Eurovision in Concert can also be found via the links.
See you in Amsterdam! Until then you can warm up with our two playlists from last year's Eurovision in Concert. In the first one you find the performers singing their Eurovision Song Contest entry while the second one offers them in other songs.
Links
Eurovision in Concert Tickets
Eurovision in Concert Official Website