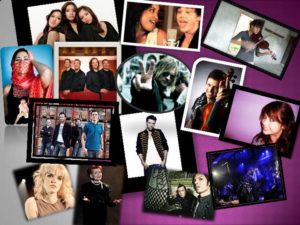 In a bit over 24 hours we'll know the Swiss representative who will compete at the Eurovision Song Contest 2012 in Baku. Fourteen participants will be fighting a golden battle where also the very first winner Lys Assia makes a return. Let's get to know the Swiss participants.
Patric Scott feat. Fabienne Louves – Real Love: The 25 years old, young talent Patric educated is in Berlin and first appeared on the musical stage working with DJ Bobo in 2009. Fabienne is well known veteran singer in Switzerland. And finally the perfect mixture from Luzern meets with a music star from tals of Rhein and brings us a shining song Real Love. The duo will be fighting to be the one on Saturday evening. They got the wildcard from the radio broadcaster DRS3 and grabbed themselves a place in the final.
Emel – She : Emel will be representing German languaged broadcaster SF. Emel first appeared on televisions back at the 2004 Eurovision Song Contest announcing the Swiss voting. Lately she found out that she can sing after the performance with Bligg singing Alles Scho Mal Ghört. After she gave a birth to a baby, she decided to give herself a chance. As this Turkish girl's name is Emel which means 'hope' in Turkish will keep hopes high to represent Switzerland in Baku.
Chiara Dubey – Anima Nuova: Chiara will be representing the Italian languaged broadcaster RSI. The 18 years old young talent Chiara comes from Ascona where she still goes to a high school. As she gave a magical performance on RSI's final, she grabbed herself a place in grand final with her Italian song Anima Nuova.
Guillermo Sorya – Baby Baby Baby: Guillermo is another participants from DRS3 who got a chance to perform in Swiss national final after an internal decision. 29 years old Guillermo has Andolisian background who is well known as humouristic, intelligent and to be Mr. Charisma. He will be fighting for a ticket to Baku on Saturday with his song Baby, Baby, Baby, to be performed totally in English.
Macy – Shining: The group were founded in 2007, bringing four talented guys together. Three songs from their first album Athlete, A-ha and Snow Patrol topped the music charts for a short time in Switzerland. With their indie style, the song Shining will be their weapon to shine in the national final on Saturday evening. And no matter they win or not, their song Shining will get a place on their second album which is claimed to warm our souls in this winter. They will be representing German languaged broadcaster SF on saturday evening. 
Sosofluo – Quand je Ferme Les Yeux : Sosofluo's act will be the only one in French at the Swiss National Final. The Sosofluo got its meaning from Sophie and then the group. Their chance to grab the viewers attention on stage will come true with an smiling, charming and enjoying performance, says 21 years old Sophie. They got their place in the final by winning the French languaged broadcaster RTS' final.
Atomic Angels – Black Symphony:
Last year, the three girls from Bern found they were still just too young to participate at the national final. This time they are old enough to participate and they also thank the radio broadcaster DRS 3 who equally picked the entry for the grand final on Saturday, after an internal selection.
Ivo – Peace & Freedom: Ivo had been on many stages around the world as supporting act of famous singers such as Lisa Stansfield and Shakira and he rocked throughout Europe. In his song Peace & Freedom, Ivo stands for peace, freedom and justice – a message that is not based on geographical boundaries, to rouse the people.
Ze Flying Zézettes Orchestra – L'autre :
Five people from Lausanne were found the group Ze Flying Zezettes Orchestra nearly a year ago with a glass of wine at Chateaux d'Oex and they played only instrumental up to now. Vocals except for frontman Sebastien are in entirely for a new experience. Their qualification to the grand final in the French languaged broadcaster RTS' selection seemed apparently not bad according to the members of the group.
Raphael Jeger – The Song in My Head :
The 32-year-old Raphael Jeger is not unknown. In 2006 he attended a talent show called Superstar's third edition and he became famous and plenty with fan support after performing a Pussycat Dolls' song. Raphael's song
titled, The Song In My Head is a real catchy tune and seems it won't
just go out of the whole of Switzerland's head after saturday.
I Quattro – Fragile:
The four tenors, Swiss Roger Widmer, Simon Hunter, Damian Meier and Matthias Aeberhard were known by the mission: "The biggest Swiss Hits". In October, the quartet won the Platinum Award for the album Passione, which has sold more than 30,000 copies. Their next goal will be conquering the really big stages of Europe, according to the group themselves. They of course have to past the Swiss national final to get the chance to participate at the Eurovision Song Contest.
Sinplus – Unbreakable: Starting in the practice room of his father, moved into the underground of San Diego, which was followed by stop in Los Angeles… The brothers Ivan and Gabriel brought Europe a lot of their musical experiences with their travel to Switzerland. With the song Unbreakable they let us share it before the journey continues. Who knows, if their next destination will be Baku in May next year?
Lys Assia – C'était Ma Vie: Lys' first dream came true in 1956 when she won the Eurovision Song Contest in its very first edition. At the age of 87 she is back for another attempt and this time she will be singing C'était Ma Vie, which is composed by Mr. Eurovision, Ralph Sieger. She will be placed in everyone's heart no matter if she wins or not on Saturday evening.
Katherine St-Laurent – Wrong to Let You Go:
The 20 years old Katherine, who is already a well known star, is natively from Quebec, Canada. Now she wants to conquer Europe and started this project with RTS' selections in Switzerland, qualifying to the final. Her role model is of course Celine Dion, another Canadian, who has already won for Switzerland in the Eurovision Song Contest in 1988. Could this be a good omen for her? We will see on saturday evening.
After four failing attempts in a row Switzerland managed to qualify for the final of the Eurovision Song Contest in 2011 with Anna Rossinelli's In Love For A While. Despite a lot of fan support she finished last with only 19 points. That song you can see below.