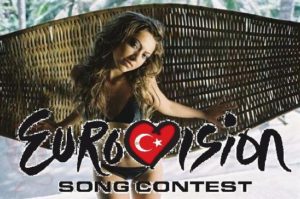 The Turkish representative for the Eurovision Song Contest, which will be held on May 2009 in Moscow, has been announced. The winner of the internal competition is the song Crazy For You (Düm Tek Tek).
The new year was presented by Hadise on the TRT channel in Turkey. After the countdown to 2009 at midnight, Hadise appeared on the Turkish channel, which is member of EBU, and began to sing her song Düm Tek Tek. The song is mainly written with English lyrics which harmonise with Turkish melodies.
Although Hadise is popular in Europe, her Eurovision Song Contest entry sounds new for the contest according to Turkish listeners and TRT. A while after the Turkish song was announced, TRT made a poll and 65% of fans declared the song was very good, 20% said nice, 9% said not bad and 7% said very bad. The real choice belongs to you as a EuroVisionary reader.