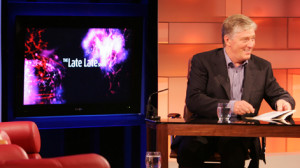 An RTÉ source has confirmed to EuroVisionary.com that the 2009 Irish national final will be broadcast as part of a Late Late Show special.
This was also the case for the 2006 and 2007 selections, in which Brian Kennedy and Dervish, respectively, were the only entrants.
It has not been decided whether a mutli-artist format will be again used this year but EuroVisionary.com understands that the national broadcaster is leaning that way.
The date for the show has been provisionally set for Friday February 20th, although it could be a week earlier.
As has happened for the past few years, a panel of independent adjudicators will whittle down all the entries received to a shortlist.
A decision on the format of the final is expected within the week and RTÉ will begin to receive submissions.
Last year's national final was held in the University Concert Hall in Limerick, and was a high budget production. This year's final will not have the same purse to play with considering the recent downturn in the Irish economy. RTÉ will have limited funds to play with in 2009.
The source also acknowledged that there will be no promotion budget provided for the entry in 2009.