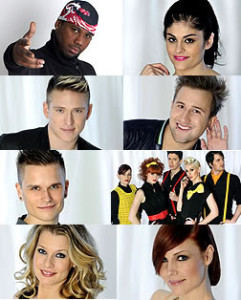 After the failure in Eurovision Song Contest last year, where Sweden didn't even manage qualify to the final, it's now time to begin the process of choosing someone who can represent them in this year's edition of  the contest. In this first Swedish heat you will find well known names like Danny, Dilba and Jenny Silver.
6 of 8 artists in this first Swedish heat are debutants in Melodifestivalen. But this doesn't mean that they will make their debut as artists. No, in fact several of them has had long and successful carriers in Sweden. This seem to be a little bit of a theme this year, very few of the artists are totally unknown to the Swedish viewers. Following is a short presentation of each of the artists competing in this week's Swedish semi final.
Song number 1: Dilba– Try Again (Niklas Pettersson, Linda Sonnvik)
Dilba is a well known name to the Swedish viewers. Since 1996 when she released her first album she has had several hits in Sweden like I'm sorry, You & I and Every little thing just to mention a few. Over the years she has gotten awards for her music, like in 1996 when she got the Swedish award Grammis for her self titled album Dilba. She has been married to Swedish singer Martin Svensson who is a former Melodifestivalen participant (Du är så) Yeah Yeah Wow Wow (1999) and Du och jag (i hela världen)(2002). This is Dilbas first time in Melodifestivalen.
Song number 2: Swingfly– Me And My Drum (Teron Beal, Patrik Magnusson, Johan Ramström, Swingfly)
His name is Richard Silva II, but he known by his stage name, Swingfly. This is his first appearance in Melodifestivalen. The Swedes will probably remember him for his collaboration with Teddybears STHLM and the song Hey boy in 2004.  He also used to work with the Swedish group Blacknuss. The team of composers working with Swingfly is not just any composers. One of them is Teron Beal who has written songs for Jennifer Lopez, Pink and Kelly Rowland among others. The other two composers, Patrik Magnusson and Johan Ramström have both participated in Melodifestivalen before, they wrote Annika Ljungberg's song Sail away(2003) and Pablo Cepeda's song La chica de la copa (2006).
Song number 3: Jenny Silver– Something in your eyes (Erik Bernholm, Thomas G:son, Henrik Sethsson)
Jenny Silver has tried almost everything an artist can do. She has been a singer in a dance band, she has been the leading actress in several musicals, she has been a singer in a rockband, released the solo album Lycklig(1997). In 2010 she participated in Melodifestivalen with the song A place to stay and finished on 8th place in her semi final. Jenny's composers, Erik Bernholm, Thomas G:son andHenrik Sethssonare no strangers to Melodifestivalen and Eurovision Song Contest, the trio wrote the song In a moment like this for Danish Chanée & N'evergreen last year. Thomas G:son is one of the Swedish composers that has competed most times in Melodifestivalen over the years.
Song number 4: Jonas Matsson– On My Own (Sari Autio Olsson, Peter Autio)
Jonas is 23 years old and from a small village called Frillesås not far from Gothenburg. Jonas was one of the two winners of the Webbjoker competition which was held during the autumn 2010. He has been performing on stage since he was 10 years old. His main goal is to reach with his music to people that appreciates it. He also hopes to inspire people to fulfill their dream to work with music.
Song number 5: Le Kid– Oh My God (Märta Grauers, Anton Malmberg Hård af Segerstad, Felix Persson)
The group consists of five people, Johanna Berglund (vocalist), Helena Lillberg-Wiland (vocalist), Märta Grauers (drums), Anton Malmberg Hård af Segerstad (guitar) and Felix Persson (synthesizer and computer). On their website they describe themselves as "love-crazed American high-school kids on spring break". Märta, Anton and Felix didn't only compose Le Kid's song Oh my god, during the years they have also composed songs for Agnes Carlsson, Alcazar and BWOamong others. As a group, this is Le Kid's debut in Melodifestivalen.
Song number 6: Rasmus Viberg– Social butterfly (Amir Aly, Henrik Wikström)
This is 20 year old Rasmus Viberg's debut in Melodifestivalen. In high school he chose a music education. During high school he also started his first band, Oldschool. Their music was a mixture of pop, punkrock and rock. Rasmus likes to try different styles of music and has played blues and funk in different constellations. Rasmus' composers Amir Aly and Henrik Wikströmis both well known names when it comes to Melodifestivalen. They have been involved as composers in songs like Rongedahl's Just a minute (2009), Maria Haukaas Storeng and Anna Sahlene's Killing me tenderly (2009) and Carola's Invincible (2006).
Song number 7: Pernilla Andersson–  Desperados (Pernilla Andersson)
She is a debutant in Melodifestivalen but she has a lot of experience as an artist. Pernilla has actually got an additional surname, Dregen, since she is married to Swedish artist Dregen from Backyard babies. She has released seven albums since 1999, the last one Ö (Island) was released in the autumn 2010. Pernilla is also an actress, in the highly praised movie Cornelis about Swedish artist Cornelis Vreeswijk she plays another Swedish artist, Ann-Louise Hansson. We have also seen her in Swedish TV-shows like Världens barn and Doobidoo.
Song number 8: Danny Saucedo–  In The Club (Fredrik Boström, Peter Boström, Danny Saucedo)
Danny was known to the Swedish audience in 2006 when he participated in Swedish Idol. Since then he has participated in another Swedish tv-show Let's dance where he finished fourth. In 2009 Danny participated in Melodifestivalen as a member of the group E.M.D with the song Baby goodbye, they finished third behind Malena Ernman and Caroline af Ugglas. Danny's co-composers have both participated in Melodifestivalen as composers before. In 2009 Fredrik Boström composed Emilia Rydberg's song You are my world. Peter Boström composed Marie Serneholt's song Disconnect me in 2009 and both Alcazars song Headlines and Eric Saade's song Manboy in 2010.
On thursday night, SVT will give the viewers a unique chance to get a preview of the rehearsals on stage before the big show on saturday. In the program, that will be broadcasted 21.00-21.30 CET on Melodifestivalens website you will be able to listen to 60 seconds of each song, watch cuts from the rehearsals and interviews with the artists. Listen to the songs here.