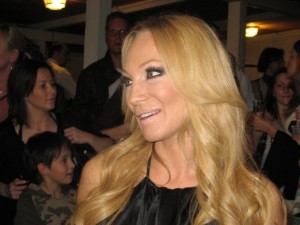 The full starting field of Melodifestivalen 2012 came clear today when swedish broadcaster SVT announced the final 16 acts at a press conference this morning. Fans of Melodifestivalen will discover several familiar names and amongst these the one perhaps shining brightest is the Eurovision winner Charlotte Perrelli.
Charlotte Perrelli, the winner of Eurovison song contest 1999 and
finalist for Sweden at Eurovision Song Contest 2008, is back again to try to win Melodifestivalen once again. Another successfull comebacker is Andreas Johnson who made it to the final of Melodifestivalen every year when he competed as a solo artist – 2006 (3rd in the final with "Sing for me"), 2007 (2nd with "A little bit of love") and 2008 (th with "We can work it out"). He also sang a duett with Carola in 2008, the song called "One love" (made it to the second chance heat).
Danny Saucedo who came 2nd behind Eric Saade in Melodifestivalen 2011 with "In the club" is returning again and so is the girl group Love Generation who reached the Second chance heat of Melodifestivalen 2011 with "I dance alone", written by the well known producer RedOne. Molly Sandén is back to try to achieve a better result than in 2009 (last in the final with "Så vill stjärnorna"). Hanna Lindblad is also competing for the 2nd time after failing to advance from the semi final 201 with the song "Manipulated".
Another comeback is the winner of Melodifestivalen 1987, Lotta Engberg, who won that year her song "Fyra Bugg och en Coca Cola", renamed before the Eurovision song contest to "Boogaloo, dansa rock'n rolla". Lotta also took part, both as a solo singer and member of a group, in the years of 1984, 1988, 1990, 1996 and 2002.
Among the debutants we have the well known singer and songwriter Lisa Miskowsky, the heavy metal band Dynazty and the author Björn Ranelid.
Heat 3 – Leksand, Tegera Arena (18th of February)
Mattias Andréasson – Förlåt mig (Mattias Andréasson)
Maria BenHajji – I mina drömmar (Nanna Svensdóttir, Thomas Cars)
Love Generation – Just a little bit (RedOne, John Mamann, Jean-Claude Sindres, Teddy Sky, Yohanne Simon, Bilal "The Chef" Hajji)
Andreas Johnson – Lovelight (Andreas Johnson, Peter Kvint)
Björn Ranelid feat. Sara Li – Mirakel (Fredrik Andersson, Björn Ranelid)
Carolina Wallin Pérez – Sanningen (Michael Clauss, Martin Bjelke, Carolina Wallin Pérez, F Dread)
Molly Sandén – Why am I crying (Molly Sandén, Aleena Gibson, Windy Wagner)
Youngblood – Youngblood (Fredrik Kempe, David Krüger)
Heat 4 – Malmö, Malmö Arena (25th of February)
OPA – Allting blir bra igen (Michael Sideridis)
Danny Saucedo – Amazing (Danny Saucedo, Peter Boström, Figge Boström)
Lotta Engberg & Christer Sjögren – Don't let me down (Lasse Holm, Lars 'Dille' Diedricson)
Hanna Lindblad – Goosebumps (Hanna Lindblad, Linda Sundblad, Tony Nilsson)
Axel Algmark – Kyss mig (Axel Algmark, Mattias Frändå, Jonathan Magnussen)
Dynazty – Land of broken dreams (Thomas G:son, Thomas "Plec" Johansson)
Charlotte Perrelli – The girl (Fredrik Kempe, Alexander Jonsson)
Lisa Miskovsky – Why start a fire (Lisa Miskovsky, Aleksander With, Bernt Rune Stray, Berent Philip Moe)
The starting order will be decided at a later occasion.