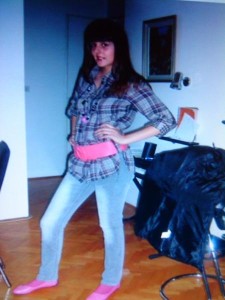 Interview with Mila Janevska from F.Y.R. Macedonia Junior Selection 2009
Hi Mila, I would like to congratulate you on a great performance in the F.Y.R.Macedonian Junior Eurovision national selection this year with your song Nema Boja Ljubovta. What were your impressions of the Junior Eurovision Song Contest in Kiev and what countries were your favourite songs from?
I liked the Junior Eurovision Song Contest very much, the organisation was on a high level. The songs were great and i liked them. My favourite songs were: Za ljubovta-F.Y.R. Macedonia and, of course,the winning song, Click-Clack, and the Russian and Belgian songs.
What did you think of the winning song Click Clack by Ralf Mackenbach?
As I said, Click-Clack was one of my favourites. The song was very interesting, the boy sang perfect and they had a great choreography. I think they deserved the first place in the contest.
What were your feelings when you were watching Sara Markoska sing on stage for F.Y.R. Macedonia?
Well I was excited during her performance. She performed the song in such a good way, she was beautiful and I think that we should be proud of her.
Do you keep in touch with Sara since the national selection?
Of course,we go in the same school and sing in the same choir so we see each other every day.
Will you try to enter the Junior Eurovision again next year?
Well I don't know yet. If I have a good song I will try again, why not? Maybe next year I will have bigger success, so that I'll be the next performer who will participate on the JESC 2010.
Have you taken part in any other festivals in F.Y.R. Macedonia or other countries?
No, I haven't. This was my first official performance and my first song, but I'm sure that soon I will take part in some of our festivals here in F.R.R. Macedonia.
What was your favourite song in the main Eurovision Song Contest from Moscow this year?
I had many favourites from the Eurovision Song Contest in Moscow. I liked Next Time for F.Y.R. Macedonia, then the Russian song, Romania and Azerbaijan. 
OK, good luck with everything, Mila. I am sure we will see you again in future F.Y.R. Macedonian Eurovision shows.
Thank you.