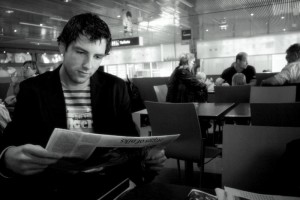 Sietse Bakker from Eurovision.tv recently got promoted as Manager of Communications & Public Relations for the Eurovision Family of Events at the EBU. EuroVisionary has talked to him about his new responsibility, the upcoming Contest and a bit about his private life as well.
Eurovision.tv has been going through some changes after you took over the management. What is your goal with the new site and do you think you are reaching it?
Eurovision.tv has different target groups. Our largest audiences are those 100 million television viewers who watch the live shows, and the dedicated Eurovision Song Contest fans. We would like to bring people together, inform them, and entertain them! Throughout the year, whoever they are, wherever they are. Another very important target group is media. With the website, we would like to facilitate their work as good as possible. The Eurovision Song Contest is not "just a TV show" anymore. It's an experience! The website, our official YouTube channel, page on Facebook and several other channels are all contributing to that.
When it comes to the new media activities, I have the pleasure of working with Nicoletta Iacobacci, head of Eurovision TV's Interactive Unit. She has a many years of experience in this field, and was part of the small group of people that worked with- and embraced the internet at a very early stage. It's very inspirational to work with her, as member of her team!
You have just been promoted to also being responsible for communications and public relations for all Eurovision events. How do you make time for all this?
I have a fantastic team of colleagues around me – they are very good in what they do and do their work with a lot of passion and dedication! The website teams consist mainly of volunteers, who are doing an amazing job. I'm young, and I am very excited about the challenges ahead. I think that gives me the energy to do my job with 110% dedication! Working in media is hardly ever a "9 to 5" job, so I knew what to expect.
Your promotion brings an even deeper involvement in the Eurovision Song Contest. Is next step to take over Svante Stockselius' position?
Haha, you're not the first one asking this! The Executive Supervisor of the Contest has a lot of responsibility and it requires a lot of experience, both from a diplomatic as well as a production point of view. I would like to do what I feel I'm good at, and right now that is dealing with communications and public relations. I haven't thought about "next steps", because I would like to fully focus on my new responsibilities. I would like to grow in this job and become better at what I am doing. I always had a dream, to present a large TV show. Instead, I became to represent one as Manager Communications & PR! And not just one of the many, but the biggest live entertainment production in Europe!

Your new title is quite a broad term. What excactly does this involve?
I am overlooking all communication of the Eurovision Family of Events (ESC, JESC and EDC). This includes the coordination of the three international event websites, establishing and maintaining press relations, handling questions and suggestions from fans, and advising the Host Broadcasters of the events on what they can expect. For a year, it's "their" event, and they take care of a great deal of communications and public relations. For most people, organizing such event is a once-in-a-lifetime opportunity, and my job is to avoid they have to re-invent the wheel every year over and over again. Not by telling them what they have to do, but by giving them suggestions and guidelines. I will also be the main contact person at the EBU for the Heads of Press representing the participating broadcasters.
You are the founder of esctoday.com and as such many might suspect that you do to your position will be favouring that website. How do you make sure that doesn't happen?
Esctoday.com brought me a lot of experience and countless beautiful memories, for which I am very grateful. In fact, I wouldn't be giving this interview to you if I hadn't start the website back in 2000! But giving them a favourable position, no chance (sorry guys!). A part of the success in my new job depends on the good relations with the fan sites, and I am sure favouring one of them wouldn't be good for the relations with the others. There are many great fan sites out there, and the people running them make a fantastic contribution to the success of the Contest.
What do you look forward to the most when it comes to the upcoming Contest in Belgrade?
I am looking forward to many things! It is so great to see, after almost a year of hard work with ups and downs, that the "machine" is running! A lot of it depends on plain hard work, but I always feel this slight touch of magic in the host city. Working on-site with everyone you've been communicating with throughout the year is fantastic – there are so many people from different countries involved, that you never see most of them.
There is one personal highlight I want to share with you… One thing I do since I work at the EBU is going to the OB-van during one of the dress rehearsals of the show. That's the truck where all signals come together, where the multi-camera director is located and where you have that large wall with dozens of small TV-screens, showing what's on every camera. The buzz right before the show is amazing. There is a lot of tension, but also a certain serenity. When the final countdown starts, 10 seconds before the show, most screens turn black as the light in the hall goes off… 5, 4, 3… and then there is just 2 seconds of complete silence and darkness. Complete, absolute silence. At zero, the director's assistant calls for queue profile, or queue Eurovision, which means the famous Eurovision tune has to start. When the tune starts playing, it just gives me goosebumps. Even thought the pressure on these people is very high, they are always calm. As soon as the tune is over, it's back to work for me! Ever since I found out about this special atmosphere, we recorded it for our web-tv. I am looking forward to that moment in Belgrade as well, and hope to share it with you again!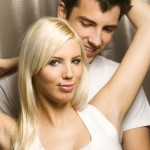 You are privately involved with a former Eurovision Song Contest participant (Mari-Leen Kaselaan from Suntribe, Estonia 2005). If she was to take part again what would this mean in relation to your job?
We once talked about it, actually. But she has no intention to take part in the Estonian national selection in the near future, and it would only be a relevant issue when she would. Sharing my life with someone who actually took part in the Contest has a lot of benefits. She knows what my job and a big part of my life are about, and I understand the business she is working in as a singer. She likes the Contest, and I like her music – the ability to share your work and biggest passion with the person you love makes things a lot easier!
Which question, that I haven't asked you, would you like to ask yourself and
what would your answer to it be?
I always leave the asking to the interviewer 😉
EuroVisionary would like to thank Sietse Bakker for taking his time to talk to us and we hope that he will enjoy the 2008 Eurovision Song Contest in Belgrade.