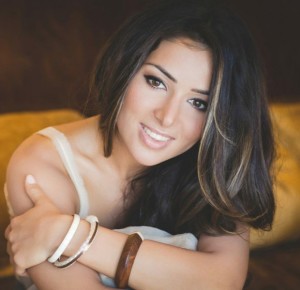 Zlata Ognevich will represent Ukraine at the 2013 Eurovision Song Contest with the song, Gravity. Here she talks to EuroVisionary about her hopes and plans for Sweden, her career, musical influences and much more.
Congratulations to you, Zlata, on being selected to represent Ukraine at the 2013 Eurovision Song Contest. How did it feel when you realised you had won the national selection?
The world changes in a moment. What was important before suddenly goes by the wayside and you only see one goal ahead – Eurovision.
How are your preparations going for Sweden?
I am very excited and it gives me strength because otherwise I would have collapsed by now. A lot of things have already been done. The music video to 'Gravity' was shot in London and took quite a lot of time to make. I take English classes, work on choreography, rehearse my song. We have worked a lot on the song and modified it a bit to make it easier to remember. Besides that, there are many interviews, photo and video shoots for promo.
How have you been promoting Gravity? What countries have you been to promote the song and what memories do you have of those countries you visited?
On my way to Eurovision I have only visited Amsterdam for promoting the song. The plan was to visit London but then a few things came up and I had to pull out of the event.
Have you received any advice from previous Ukrainian Eurovision participants about what to expect during the Eurovision experience?
The main advice from everybody was to be myself and to follow my heart. By the way, this is the main message of the song 'Gravity'. It encourages to go where your heart takes you and obey your gravity.
Have you heard all the 38 other songs in the Eurovision this year? If so, do you have any particular favourites at this time?
Yes, I have heard many songs by now. Some on YouTube and some in Amsterdam at the Eurovision in Concert. My favourites so far are Marco Mengoni from Italy, Anouk from Netherlands and the legendary Bonnie Tyler.
Who are your musical influences?
Michael Bublé and Bobby McFerrin, also Whitney Houston and Celine Dion.
Do you have an album planned for release soon?
Yes, the plan is to release my album soon, hopefully this year. Eurovision has overshadowed all other things for now, and is taking all of my time.
Have you participated in any other music festivals in Ukraine or other countries?
Yes, I have participated in numerous festivals but one of the recent major wins was in 2011 when I came first in the international competition Crimea Music Fest.
Do you plan to record 'Gravity' in any other languages, and are there any remixes planned?
Yes, we are planning a remix release. Part of it will be recorded in the non-existent language Nakatonka, the original language of the song.
Finally, is there a question I have not asked you, that you would like to ask yourself? If so, what would your answer be?
My answer would be: I hope to see you all next year in Kiev!
Thank you very much, Zlata. Good luck in Sweden!