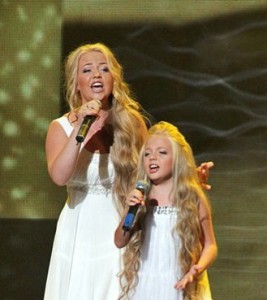 Anastasia Petryk won the Junior Eurovision Song Contest for Ukraine in 2012 with her song, Nebo.  Her sister, Viktoria, also represented Ukraine at the 2008 Junior Eurovision with Matrosy.  The Petryk Sisters talk to EuroVisionary about their Junior Eurovision experiences, their music careers so far and their future plans.
1. Anastasiya: Congratulations on winning the Junior Eurovision Song Contest in 2012. What were your feelings when you realised you had won, and what has the reaction been for you in Ukraine since winning?

Thank you very much! I was happy I had such emotions that I cannot express in words. Myself and Viktoria have been getting used to writing autographs, having photos taken and people saying they enjoyed watching our performances!

2. Viktoria: You also represented Ukraine at Junior Eurovision in 2008 in Cyprus and gave an amazing performance. You were with Anastasiya in the Netherlands last year. How did the atmosphere compare with your participation in 2008?

I enjoyed my part in the Junior Eurovision. I was worried for my sister last year and wanted to see her victorious. In 2008 I had the same hopes, but unfortunately I did not have enough points, but I was very proud that my sister won in 2012.
3. Anastasiya & Viktoria: Can you tell us something about your experience on the Ukraine's Got Talent tv (Ukrayina maye talant) tv show? Can you tell us some of the songs you performed on that show?

I (Viktoria) came to the selection of solo and sang the song of Tina Turner «Simply the Best», but my Anastasia was behind the scenes, and when she was called, we sang a duet with her song «I Love Rock & Roll». Everyone loved the TV broadcast and then we prepared a song Mariah Carey and Whitney Houston «When You Believe», but we insisted on the song "Black Cat" by Jeanne Aguzarovoj. The rest is history.
4. Anastasiya & Viktoria: Have either of you recorded any new songs since your Junior Eurovision experiences and do you have new recordings planned for release?

Yes, we are working with new material, we have recorded new songs. Soon you will hear them. Viktoria's song is available on YouTube at Ukrainian preselection for the "New Wave" in Latvia. We are very much ready to meet all the participants in the Ukraine in Kiev and want to please all our new songs by 3 October.
5. Anastasiya & Viktoria: Do you both keep in touch with any of the acts from the Junior Eurovision in the years you both participated?

Yes, we keep in touch with the Georgian deligation from 2012.

6. Anastasiya & Viktoria: Who are your musical influences?

We listen to a lot of music, but mostly prefer the songs in the style of Rock & Roll. But also we love Whitney Houston, Christina Aguilera, Beyonce, Michael Jackson and many more!

7. Anastasiya & Viktoria: Did you both watch the 2013 Eurovision Song Contest from Sweden? If so what were your favourite songs?

Of course! We loved the songs from Azerbaijan, Greece and of course the winning song from Denmark!!

8. Viktoria: You will be eligible to participate at the Eurovision Song Contest in in 2014. Do you plan to submit a song next year for the Ukrainian selection?

Yes, we are already working on a song, I understand that after the victory by Anastasia it will be very difficult, but I'm Petryk, and Petryks are accustomed to big challenges! I want my song to be the best in Ukraine, and really looking forward and hoping everyone will like it.
9. Anastasiya & Viktoria: Do you both have any plans to perform at any festivals this summer either in Ukraine or abroad?

This summer we are at competitions and festivals in Ukraine performing as guests. But in the next year we will see.

10. Finally, is there a question I have not asked you, that you would like to ask yourselves? If so, what would your answer be?

Shall we sing a duet at the Junior Eurovision Song Contest 2013 in Kiev on 30 November? We'd love to, but it will depend on the organisers of this great show!!

Thank you Anastasiya & Viktoria…good luck to you both.
You can read more about the Petryk Sisters at their website.  You can see Anastasia and Viktoria perform their Junior Eurovision songs below and also perform When You Believe together.