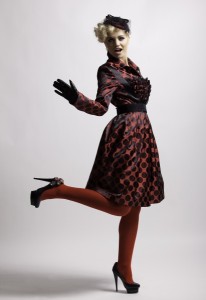 Nina will represent Serbia at the 2011 Eurovision Song Contest with the song, Čaroban.  Here she talks to EuroVisionary about winning the Serbian national selection, her promotion for Eurovision, her musical influences and a possible alternative career to music.
Hi Nina, congratulations on winning the opportunity to represent Serbia at the Eurovision Song Contest. What your feeling when you realised you had won and been selected?
I am very happy and honoured at the same time. This is a rare and fantastic opportunity for every singer. First, I was in shock, and now I am just enjoying my time and focusing to to do my best in Dusseldorf.
How are your preparations going for Germany?
Very good, thank you. We are going with everything to the plan, so everything is good. There are so many obligations but I am managing everything.
How was your promo tour? Do you have any special memories of the places you visited?
My biggest memory is from Holland, the Eurovision In Concert in Amsterdam. So many fans and people who really do care about the song. It was great really.
What was it like working with Kristina Kovač? Had you worked with her before Eurovision?
No, we started our co-operation before the national song contest for this year's Eurovision. Kristina is a fantastic composer, and lecturer as well and I do precious every minute of time with her.
Have any previous Serbian Eurovision acts given you any advice on what sort of experience to expect at the festival?
Yes, some of them from Serbia that I had opportunity to talk with and also Dino Merlin from Bosnia and Herzegovina who said to me that I have to enjoy in everything I work and that is the only thing that matters.
What is your opinion about the language to sing in? For example English is known to an international audience but Serbian represents your country better. Do you have a particular preference?
Of course that I think that Serbian represents my country the best. Many people said that the English version is also as good as Serbian but I think that this was a good choice.
Who are your musical influences?
Mostly Duffy and also Sade.
Have you heard all the other entries from this year? If so, do you have any favourites?
Yes, I have but I do not want to underline any particular songs.
Finally, what question that I have not asked you, would you like to ask yourself, and what would your answer be?
Nina, can you sing and be a good pharmacist in the same time – YES, YES YOU CAN.
Thank you, Nina. Good luck in Germany.
Thank you too.