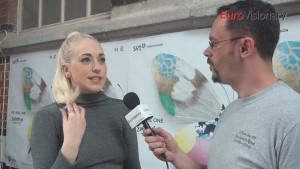 In a bit over an hour she will try to bring Norway into the final of the 2013 Eurovision Song Contest. Before she takes with the stage with the song I Feed You My Love, let's refresh our video interview with her. 
In the video interview below, conducted by John Stanton, you can hear Margaret Berger talk about her first rehearsals on the Eurovision stage in Malmö. We also asked her about if she feels a lot of pressure being one of the favourites to win the whole competition and which members of her family will be supporting her in the semi-final and who will come to Malmö in case she reaches de big final. So far, she knows that of the most important thing is to make a good performance and she is focused on that but she of course appreciates all the compliments.
Besides that, she also spoke about what is her favorite movie and more. Find it out in the video below and watch it in 3D to enjoy it to its fullest. If however you can't see that, you can always turn it off in the player below for regular 2D image.