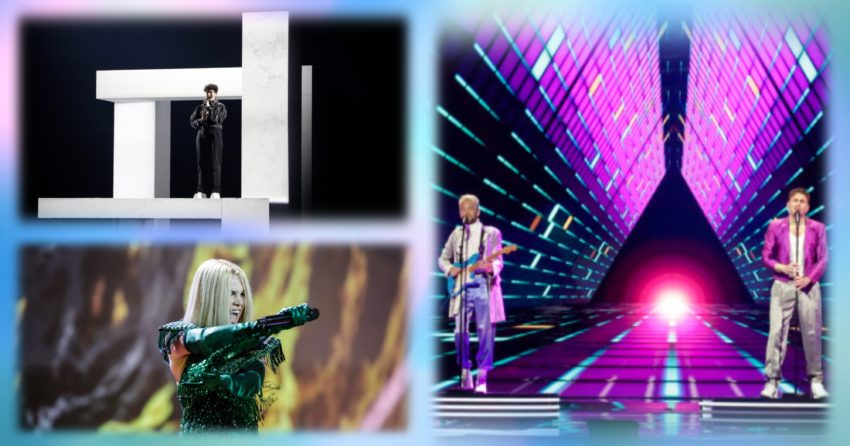 The day is coming to an end with just three rehearsals in this last block for today. First up was Latvia's Samanta Tīna. She was followed by Switzerland's Gjon's Tears and finally Fyr og Flamme from Denmark.
Earlier today, we saw five countries from the last half of the second semi-final rehearse. And now, it's time for the last three. It's three very different songs; a modern up-tempo song from Latvia, a quiet emotional ballad from Switzerland and a 80s beat from Denmark.
Day 7 has a total of two rehearsal blocks. This second one includes performances from Latvia, Switzerland and Denmark.
Who has what it takes to reach the final? Let's look at reactions from Eurovision journalists. We asked them to judge from the rehearsal if they were ready, and what might still not work for them. The article will be updated after each rehearsal so remember to come back or refresh the article.
Latvia: Samanta Tīna – The Moon Is Rising
Charlotte J. – First of all, can anyone explain to me why so many fans call her The Queen? Is it just because of the first line in the lyrics or the golden hands? Or did I miss something? I think I did. Just like I am clearly missing the point of this song and the performance. I like the opening with her turning her back to the audience before she turns around and walk further into the stage. It reminds me of Anja Nissen's opening (Denmark 2017). I love the artistic backdrop and the floor. And with love, I mean really love, it's beautiful. I can also relate to her dress… but aside from that, I feel lost. What is this? How should this relate to me? For Latvia's sake, I hope I am the only one feeling like that.
Michael O.- The staging is amazing. Samanta's dress is a real nice colour. Her singing is perfect, the backing singers do their job well. The camera work is excellent. The only problem here is the song, no amount of rehearsals can fix that. Samanta, though is superb.
Gunec G. – I love the costume, especially the green colour. Samanta has a great voice and a great stage energy. On the other hand, the stage was too colourful and flashy it was almost eye straining. Instead, they could've used writings to reflect the message of the song.
Theo V. – The moon has risen and the queen of the night has arrived in all her unapologetic, 'in-your (our)-face' attitude. That's what I had expected to say at least. Instead, I find that Latvia is lacking impact (any oomph comes from Tina herself presentation-wise). I like the shade of green for the outfits but I would have selected something different for the backdrop – something less organic and more high-tech perhaps to go with the backing vocalists' visors, which, to me, look fairly futuristic. The open palms motif looks good but I am not sure it is enough in itself to carry the graphics part of the presentation. Samantha Tina should save her voice for Thursday. The song has vocally demanding parts and some cracks were detectable today.
Switzerland: Gjon's Tears – Tout l'Univers
Charlotte J. -This reminds me so much of Kristian Kostov's Beautiful Mess (Bulgaria 2017). There are many similarities between the two acts, in my opinion. Will Gjon's Tears do just as well? It might do so, or even win – IF – and that is a big if, they get the camerawork fixed. In the first run, I couldn't focus on anything else than how bad that was. In the second run, it had, thank God, improved a bit, and for the third, it looked like they had fixed a few of the moments, I paid particular attention to… As such, it's still not perfect, but if they keep improving, it will probably be so when we come to the jury semi-final on Monday evening, and then this song will score top points from the juries. If the camera however isn't perfect, it can flop.
Michael O. – Very strange staging for this song, totally pointless, in fact, but look who was responsible. Gjon adds such a touch of class to this year's contest, and with his voice he has nothing to worry about, as far as qualifying to the finals. However, the lights are causing a shadow on his face. The stage is floating all over the place. Not sure about the dancing either. Poor guy having to put up with all that. Did Albania get all the good staging this year. No work needed for Gjon, staging needs amended.
Gunec G. – This entry is all about vocal performance and Gjon seems to have nailed it again. Some may think that the choreography Gjon performs is unnecessary, but I should disagree as the song has a rhythm of its own to be backed with such moves. And as per him performing on a platform, this goes well with the Universe concept. I don't know what to say about the costume, but there's something that is not right there. Good one overall.
Theo V. – I find Gjon's Tears vocal performance strong. He plays very well to the camera, too. It is the white, generically modernist-looking structure onstage that I am slightly ambivalent towards. I am usually a proponent of Modernism but I am not sure as to how important it was here. I think that, on the whole, it might detract from the song's lyricism and, to start with, it creates a sense of spatial shallowness. Things get more interesting as the structure comes apart – a covert symbolism here, or am I reading too much into it? There are some great, emotive moments but, as I said earlier, not completely convinced personally that the presentation works fully as intended.
You can watch a clip of Switzerland's rehearsal below.
Denmark: Fyr og Flamme – Øve Os På Hinanden
Charlotte J. – Being Danish, I am naturally a bit biased here, but this is so refreshing. It doesn't matter that you don't understand the lyrics, this is about just enjoying it, having fun while they take you back to the nostalgic 80s. This is just what we all need right now, and I don't understand why the bookmakers haven't realised that yet… But hey, that means money to earn if you feel just as confident as I do 🙂
They've managed to re-create the corridor effect here in Rotterdam so it's sort of similar to in the Danish final, aside from the larger stage and the three backing vocalists instead of the orchestra in the Danish final.
Jesper is so damn cure, but that I already knew, and his running around brings a smile on my face every time.
Well done, Jesper and Laurits. Make me, and the rest of Denmark proud. You know, we are all with you ❤️.
Michael O. – If after all the songs, you are sitting waiting, assuming that the last song is always great, you might be in for a big disappointment. Like The Roop, who start the semi finals, Fyr og Flamme bring practically the same staging as they did in the Danish National Final. As a result there isn't too much to see that's different, other than the addition of backing singers. For newcomers, they may like the colours, especially following, the dark shades of Switzerland, but others may think they've tuned into some Old Gold station by mistake. As it is the rehearsals went fine.
Gunec G. – This was nice. 80's disco stage concept goes well with the song. Seems like Jesper can not stand still on the platform and finally breaks free and runs around. He looks nervous, but he does a great job vocally. I need him to smile a little
Theo V – (Self-confessed) bias alert – I had been hoping that Fyr og Flamme would be selected to represent Denmark ever since I heard their first single, Menneskeforbruger. I am also one of the people who get (and love) their 80s references. Laurits Emanuel usually plays very well to the camera and smiley close-ups of his never go amiss (especially when he actually looks at the camera). Jesper had his usual likeable, exuberant bursts of energy. Things started a bit serious-looking however. At some point, Jesper took off his earpiece, so the serious faces might have been due to noise being fed into their ears (or not). The camerawork at the performance's end, where Jesper invites Laurits Emanuel on his platform, was much improved. The presentation in general looked more fine-tuned. This is a true outsider – I personally think that the secret to success would be for Jesper and Laurits Emanuel to forget about the result and party onstage like there's no tomorrow. Today, a good balance between professionalism and fun was struck. I don't expect everyone to agree with me, but this is a carefree Eurovision delight as far as I am concerned.
You can watch a clip of Denmark's rehearsals below