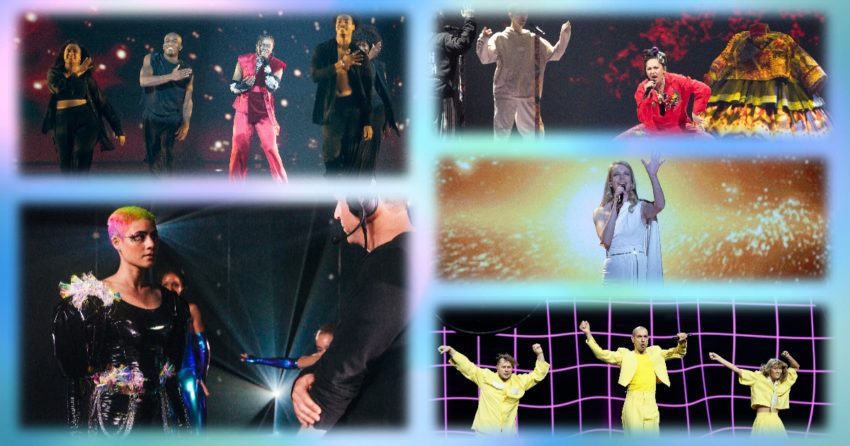 What a busy day this is. We start the second round of rehearsals, and we have none less than 15 countries rehearsing today. First up in the morning slot was The Roop was Lithuania. They are followed by the acts from Slovenia, Russia, Sweden and Australia.
After four days, we are now already at the stage where the first semi-finalists will take the stage for their second and last rehearsal round before we start the dress rehearsals. For this second round, each country only had 20 minutes available. With just 5 minutes in between, things went rather fast too.
We'll get through three sessions today, all with five songs in them, and as such we'll see the entire first semi-final except from Malta. The first round included Lithuania, Slovenia, Russia, Sweden and Australia.
Who has what it takes to reach the final? Let's look at reactions from Eurovision journalists. We asked them to judge from the rehearsal if they were ready, and what might still not work for them. The article will be updated after each rehearsal so remember to come back or refresh the article.
Lithuania: The Roop – Discoteque
🇩🇰 Charlotte J. – These guys are ready for the semi-final – and the final. They know exactly what to do, and they deliver – each time. Camerawork is good too. A top professional rehearsal where there's nothing to change really.
🇬🇧 Michael O. –  Having performed at the Lithuanian National final, The Roop have come well-prepared. The choreography has been practised until it bleeds. This rehearsal could well have been their actual performance at next weeks semi final. The dancers are ready and the vocals are perfect. No issues here.
🇹🇷 Gunec G. – Yellow costumes, cubic stage lightning, everything is the same as in their national final, nothing special. And the choreography, the same
Slovenia: Ana Soklič – Amen
Charlotte J. – There's a few places here and there where I am not impressed by the camerawork. The backdrop however is stunning and together with the gospel choir brings this song to live. I am missing a smile from Ana when she walks around. Her facial expression is a little too stiff.
Michael O. – Ana had a few minor vocal problems at the beginning, but no surprise singing so early in the morning. The sound from the back needs tweaking a little. The images and camera work seemed almost perfect. She walks across the stage at a musical break, and that has been timed right. Almost there for a great performance next Tuesday. The song ends quicker than I had expected.
Gunec G. – I love the sky, space, stars stage concept. Ana's vocals were very good and she looked pretty in white, but she'd rather wear a dress than trousers.
Russia: Manizha – Russian Woman
Charlotte J. – This is interesting. The outfit, she steps out of… I will remember this song for one of the best changes of clothes. No matter what one might think of the song, Mazizha is a fantastic performer, her facial expressions throughout the song is worth a study in itself.
Michael O. – The camera man could be seen in the shadow of Manizha's dress, but you'd need to look closely, so not worth bothering about. There is a lot of movement here, so the camera men are going to be kept on their toes, but they seemed to manage fine during these rehearsals. Manizha was a little hoarse in places, but since the song involves some shout outs, that's no surprise. She should give her throat a rest, or have a nice soothing drink. The backing singers are well set up in their places on the stage. I'd imagine there's not a lot that needs to change.
Gunec G. – Multi colour costumes, uptempo choreography, women empowerment messages on the big screen, ethnic Russian woman images, modern Russian women live on screen, great vocals. What more could we ask for?….And a great colourful stage.
Alvaro S. – the screens look like a work of art. Very creative Russia is thinking outside the box.
You can watch a 30 second clip of Russia's rehearsal below
Sweden: Tusse – Voices
Charlotte J. – As always, you can expect Sweden to deliver one of the most polished performances. They never fail to deliver, simply impossible for them to do that. Tusse leans a bit too much forward for my taste, but other than that, there's absolutely nothing to say regarding the performance. It's flawless, as always from Sweden.
Michael O. – Like The Roop, Tusse has kept much the same staging as was in the Melodifestivalen 2021. Therefore, the camera work was practically ready. The issue is how much are we being told about Tusse's operation he had on his throat, as his singing is not as good as it usually is, and he seemed to straining, which since these are rehearsals he probably doesn't need to do. This whole package comes with the usual professionalism of the Swedish delegation, and since Euro fans have seen it before, it presents no surprises. For viewers who will see this for the first time next Tuesday, it will be interesting to see how they find the performance.
Gunec G. – Tusse has a nice energy on stage. He chose a red suit with black and ailver details. He was joined by 4 dancers in black and a few other people. The stage promised nothing special, except the stars towards the end of the performance. Tusse's vocals are Ok, not bad at all, enough for the entry. We'll surely see Sweden in the finals as usual.
You can watch a 30 second clip from Sweden's rehearsals below
Australia: Montaigne – Technicolour
Charlotte J. – Hard to judge exactly how the camera work is for this live-on-tape recording based on the clip we saw, but it looks a bit too messy for me. Time will tell what it actually ends up being like.
Michael O. – If they can do any more wrong to Montaigne, then here's more as there was no sound on her live on tape performance. Not sure if that was the intention. Silent, the performance actually looked pretty impressive. Montaigne was in a black silvery suit with her most recent hair colour. Wish there was more to discuss.
Gunec G. – A minimal yet colorful stage from Australia. Montaigne and the girls looked pretty in their tight overalls. I loved Montaigne 's colorful hair.
You can watch a clip of her rehearsal below