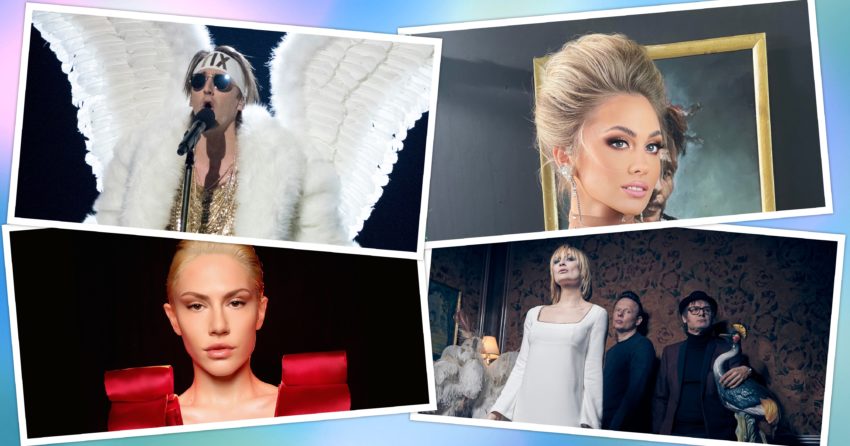 Day two kicked off with Cyprus' El Diablo on stage as the first act. This was followed up by the acts from Norway, Croatia and Belgium. Who has what it takes to secure themselves a place in the final?
Yesterday, seven acts from semi-final 1 took the stage in Rotterdam to rehearse their stage presence. Today, the remaining nine will be on stage. Up in first block before the lunch break were Cyprus, Norway, Croatia and Belgium.
Let's check out the rehearsals from these four countries. The article is being updated during each rehearsal so remember to come back or refresh to catch the latest news.
Contrary to other years, this time, the first run through of each rehearsal was closed. This is the one where they test vocals. After that, each country had two rounds which were available for the press to watch.
Cyprus: Elena Tsagrinou – El Diablo
With four dancing lady devils dressed in red, Elena started on the floor, ready for an energetic performance. Just as she was getting into the chorus, the feed broke. Elena's costume looked a silver like colour, a sort of bodysuit, with trimmings. The stage was an array of flashing lights and mirrors, but really wasn't too over the top. This was a nice enough run through, and the backstage displayed the words El Diablo in the background. The performance was very subtle, vocals were getting there, the song was very basically performed, but very appealing. There was a few floor writhes and pouts to the screen, but have to say, this is staged pretty well. On the second run through the devil's fire blasted up from the stage. Elena should be pleased with this rehearsal.
Pictures from the rehearsal can be found on eurovision.tv. An excerpt from the rehearsal clip can be watched below.
Norway: TIX – Fallen Angel
From the devil, to an angel as Tix starts his performance on a heart shaped island in the middle of the stage. Tix wore the same angel wings he had in the Norwegian final, but has lost two dancers. Purple, yellow and red coloured clouds blew out from either side of Tix. He has slightly changed the melody of the song.
Five spotlights shone down from the roof, or heaven to light up Tix's performance. On the second run through white smoke blew over the stage. Tix wore a bandanna with light blue and white jewels. Each dancer had their own socially distanced box to dance on. A competent performance, not too much will need to be changed.
Pictures from Norway's performance can be found here on eurovision.tv. An excerpt from the rehearsal clip can be watched below.
Croatia: Albina – Tick-Tock
Prior to Albina coming on to rehearse, you could hear Tix say, Tix-Tock, before handing the stage over to Croatia. Instantly, Albina is a great singer, although she missed some of the higher notes. She is dressed in what almost looks like a silver body suit.  Her four dancers are also dressed in silver. There are holograms of many Albina's.
Lyrics from the song are displayed in blue, purple and pink behind her, with the stage primarily being the same colours. A few more practices are sadly needed here, but that's what rehearsals are for.
And indeed a stronger performance was displayed during the next run through, with the vocals fixed. The dancers are all lined up with Albina covering the whole stage. The Croatian lyrics are left in, giving the song some variety. She will still have to work on her 'Oh No's' though as she just misses the note.
Pictures from Croatia's rehearsal can  be found at eurovision.tv. You can watch part of Albina's rehearsal below.
Belgium: Hooverphonic – The Wrong Place
Hooverphonic have gained a backing singer and a drummer for their Eurovision performance. Geike is all in black and you easily can tell how experienced she is on stage. Her vocals are flawless. The staging is all black, very dark. Alex sat behind his piano, while Raymond stood upfront with his guitar, but this is definitely a performance where live instruments would work best.
The camera spins 360 degrees around the band, and there is no stage trickery, in this very basic performance, which is exactly what the song needs.  It gives the appearance of a dark night club, but on a large stage.This entry is not to be underestimated.
Pictures from Belgium's rehearsal can be found at eurovision.tv You can watch a clip of Belgium's rehearsal below.
You can catch an exclusive interview with Hoovephonic talking about their career at this link.