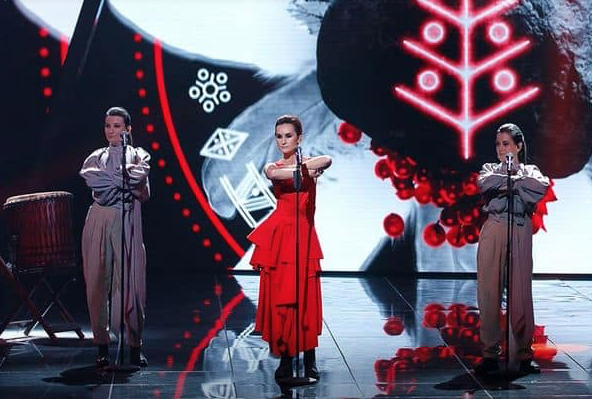 Go_A were selected to represent Ukraine at the Eurovision Song Contest after a clean sweep in the final, receiving the top votes of both the judges and the public televote. The group were due to represent their country with this ethnic inspired song "Solovey" (Nightingale).
Ukraine were returning to the competition after a one year break following the controversy of last year where the country were forced to withdraw after the national selection Vidbir winner Maruv refused to comply with the broadcaster's tough rules regarding touring in Russia.
This year's selection show was held over two semi finals and one final with ethnic band Go_A being declared the winner after receiving top votes from televote as well as the juries. Solovey (Nightingale) would have been the first song at the contest sung entirely in Ukrainian.
Our team give their opinions on how this song would have fared, had the competition gone ahead.
Alvaro The ethnic/tribal sounds combined perfectly with the backdrop of Go_A's performance at Vidbyr. Also bonus points for being the first song entirely sung in Ukrainian language. Would have qualified.
Ashleigh   Solovey is a great song and was one of my favourites from this year's contest. Sang like a Ukrainian folk song, the style of singing isn't for everyone and would have really divided the public, as it did the Eurovision fans. It would have been really interesting to see how the song would have fared in the televote. I hope that Go_A return with another great song next year.
Elvir Ukraine is one of my favourite countries in the contest and they didn't disappointed me this year either. I like the mix of traditional, ethnic music and modern pop in Solovey. The song sounds magical, mysterious and very moody. It would definitely have qualified to the grand final.
Josef Go_A have very interesting sound as the group mixes ethnic Ukrainian folklore with modern dance music. Solovey came out as a perfectly weighted piece with a good staging. When we compare semifinal and final performance, it is clear, that it gets better with every single performance. Definitely one of my favourites this year and I am very glad that Ukraine keeps Go_A also for 2021.
Michael While I do believe go_a are quite talented, by not letting potential visitors to Russia to compete, the Vidbir is now limited in who can represent Ukraine. This is the same sort of screechy noise that Poland sent last year. I'm not a fan. Hopefully they will sing something better next year
Charlotte I am drawn into this song immediately. The flute intro really charms me and I would give top marks had it ended here. Unfortunately, 30 seconds into the song, I realise that it's not going to be the song I had hoped for. Aside from the intro, there's not much to attract me to the song. I do hear good parts here and there, but it just doesn't appeal to me. I realise that others will love this song, it's just not my cup of tea. But I do like the outfit though! Flute intro and outfit yes, but the rest can't catch me.
Theo I suspect the sort of entry that might be a nightmare for some. Bucolic folk meets contemporary meets insanity. Strangely enough, the entry works for me (to a hypnotic degree perhaps). Eurovision would not be Eurovision without entries like Solovey. Judging by the live performance for the Ukrainian national final, it would have been visually sharp, too.
This reflection article is based on the author's own personal experience. Views expressed belongs to him or her, and are to be seen as unrelated to EuroVisionary.com.