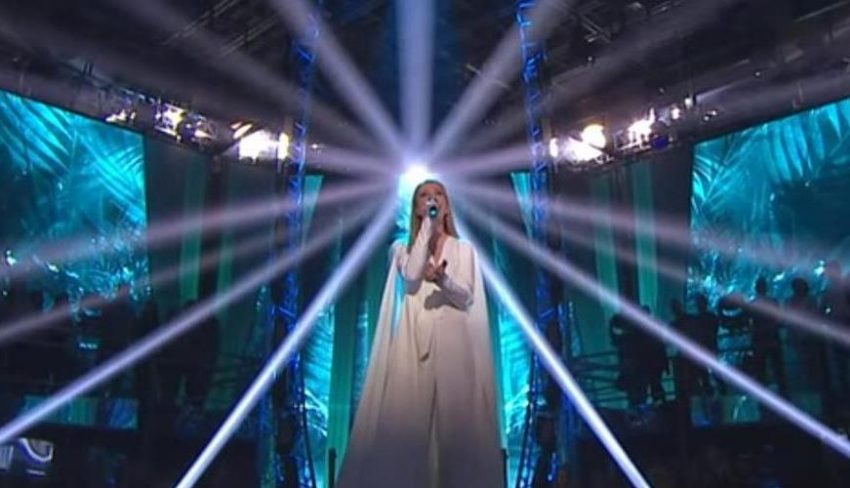 This would have been the time when we would all still be talking about the results of Rotterdam 2020 if the event had not been cancelled due to the COVID-19 pandemic. Here at EuroVisionary, we though we would keep the discussion going by revisiting the entries that had been selected for this year. Today, it's time for Slovenia's Ana Soklič and her song Voda.
Ana Soklič won the ticket to represent Slovenia at Eurovision after winning this year's Evrovizijska Melodija (EMA), the country's long-running national selection. 36 year-old Ana is also the lyricist of Voda (Water) and co-wrote the music. The artist is expected to return and represent Slovenia in Rotterdam next year.
Slovenia was in the unfortunate position of being last in the betting odds prior to the cancellation of Eurovision 2020. But what do we think about the entry? These are some of our views here at EuroVisionary:
Theo – 'I had summarily dismissed this one on first hearing. It had sounded too old fashioned and bland to me. I guess other people must have felt the same way because the song was last in the betting odds. However, I have since come to appreciate the strength in the voice of Ana Soklič. It will be interesting to see what entry she will come back with next year. I am now somewhat of a convert regarding the song, too, though I still think it would have been unlikely for Slovenia to have done well this year.'
Elvir – 'I totally forgot Slovenia's entry after listening to it for the very first time. But when they launched the revamped version of Voda, I began to feel much more positive about it. After Ana Soklič's performance at Eurovision Home Concert, which was one of the best overall, Slovenia entered my top 10. Ana is such a great artist and I am so happy that she will be back in Rotterdam next year.'
Michael – 'Slovenia – one of the oddities of Eurovision. Ana is one of the best, if not the best singer from 2020, but Voda is one of the worst songs. Sure her cover of Suus was incredible, but she was bringing Voda. Judging by the other songs you can find on the internet, Ana doesn't sing for mass appeal and, if she won't bring a better song in 2021, we won't see Slovenia in the finals again until 2022 at the earliest.'
Wouter – 'In my show report, I wrote: "only one word seems to do justice to this song, her voice, the music and performance – amazing!" I stand by what I said in February. I'll "say yes" to covering EMA2021 if they choose to hold one just for her
.'
Charlotte – 'Strong vocal performance. Though I have no clue what she sings about, I somehow end up believing it. It's dramatic, mysterious and intriguing. Looking forward to what she comes with next year.'
Josef – 'Slovenia is a masterpiece. Ana Soklič is one of the best female singers in 2020 and so is Water. Its only disadvantage is how out of the mainstream this is. In combination with the orchestral backing track done in the revamp, Water became really epic – only not for the regular Eurovision audience. Let's hope for another good song next year, but maybe one with better chances to succeed as I am afraid that Water would stay in the semi-final.'
Stay tuned – tomorrow, we will be discussing yet another entry that had been selected for Rotterdam 2020!
In the meantime, you can revisit Slovenia's Ana Soklič and Voda in the video below:
This reflection article is based on the author's own personal experience. Views expressed belongs to him or her, and are to be seen as unrelated to EuroVisionary.com.