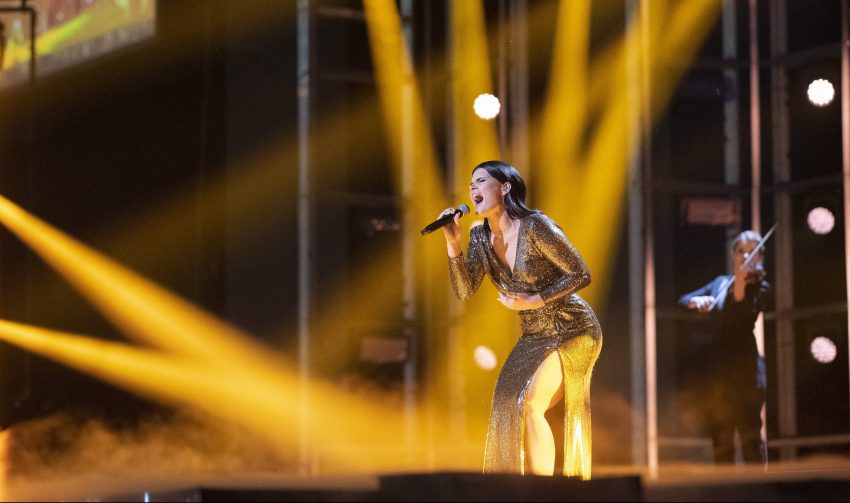 It's rare that a Norwegian final ends in a scandal. This year, it did – and fans were frustrated. Maybe Ulrikke would have won anyway, maybe she wouldn't. One thing is sure however, she probably would have scored a good result at the 2020 Eurovision Song Contest.
"We have a problem with the voting system. A back-up people's jury will be used". This message was told from the stage in this year's Norwegian final. The so-called 'people's jury' (which no one heard of before) selected four songs that qualified to the second voting phase. It's not completely unfair to say that only one of the four favourites went through – Ulrikke. Didrik & Emil, Magnus Bokn and Rein Alexander were all voted out this early and as such, Ulrikke was the only of the favourites still standing at this point.
At the very end, Ulrikke won a convincingly victory. The fans however were furious. Norwegian broadcaster NRK had voting issues in the prior semi-finals too, but did nothing (or didn't do enough) to make sure it would be fine for the final. The system was completely down for 25 minutes. Afterwards, NRK revealed that the so-called 'people's jury' consisted of 30 people voting based on the studio versions. The latter resulted in artists also letting out frustrations as they found it unfair not to be judged on their performance. At the Eurovision Song Contest, juries are told to judge the complete package, live vocals as well as performance included. Why this wasn't the case in Norway, we don't know.
It took a while before the fans calmed down, but as they did, they all backed up on Ulrikke. We asked our writers, who are fans in various ages and spread all around Europe, what they think of this year's Norwegian entry: Attention by Ulrikke. If their predictions in any way can be considered valid for what would have happened at Eurovision, it's clear that Norway would have scored well this year.
William 🇬🇧 – Beautiful, poignant and modern, all the while having a classic feel. This would have given Norway their best result since 2013. One day I hope Ulrikke comes back to the contest.
Josef 🇨🇿 – Ulrikke brought a classic emotional ballad to the set of Eurovision 2020 songs. And what emotions this is. The song successfully resounds in my heart and makes me cry, which is something not every song can do. It is truly beautiful and definitely would be another possible top 10 placing for Norway. I keep my fingers crossed for Ulrikke to come back to MGP with something as good as Attention. Hopefully we can see her at Eurovision one day.
Charlotte 🇩🇰 – Norway had a really strong national selection this year. At least once, they messed up and left a strong contender in the semi-final. In the final, I believe they threw away a Eurovision victory when their voting system went down – and yet, I believe that Ulrikke would have scored a top 5 result at this year's contest. It wouldn't have won, but this classic ballad – the best of its kind this year – would probably have landed a 3rd, 4th or 5th place. It would be well deserved too. Though I am not a fan of ballads, I really like this one.
Theo 🇬🇷 🇬🇧 – I like it a lot. I was not sure whether it would have stayed within my top 10 till the end, but, even with more entries coming out, it comfortably did. My only concern is that Ulrikke's face was too tense throughout her live performance for the Norwegian final. To me, this detracted rather than added substance to her performance. The singer would also have to save her voice during the demanding rehearsals at Eurovision because this sounds like a song that is taxing to one's vocal chords. The song contains some of my favourite musical phrases from the 2020 crop of songs, too. I would have cheered enthusiastically for Norway and Ulrikke at Eurovision.
Alvaro 🇨🇴 🇫🇮 – Ulrikke sounds genuine in her interpretation of the song. She is feeling the lyrics when she is performing, which is touching. In addition, Attention is the best power ballad of this year.
Elvir 🇧🇦 🇩🇰 – The Norwegian entry is one of my favourite songs this year. It is no secret that I am a huge fan of ballads, and Attention meets all the criteria to be considered as a good ballad. It's emotional, fragile and powerful. Beside that, Ulrikke has a great voice and stage presence.
Michael 🇬🇧 – 'Arcade part 2', but since Arcade was so good, it hasn't outstayed it's welcome yet. Ironically I feel this would have done better in 2021 as fans and juries may not have wanted two similar songs to win in a row. We'll never know now, but Attention joins the list of great songs that never got the chance.
Other articles in this series
We are going through all the 41 selected entries for the 2020 Eurovision Song Contest. We take them in random order where we started with Switzerland on the 16th of April. So far, we discussed a total of 16 of them (Norway included). Maybe you want to read one you might have missed? All of them are available from our front page. One per day from the 16th of May, and a few random ones can be found below.
This reflection article is based on the author's own personal experience. Views expressed belongs to him or her, and are to be seen as unrelated to EuroVisionary.com.