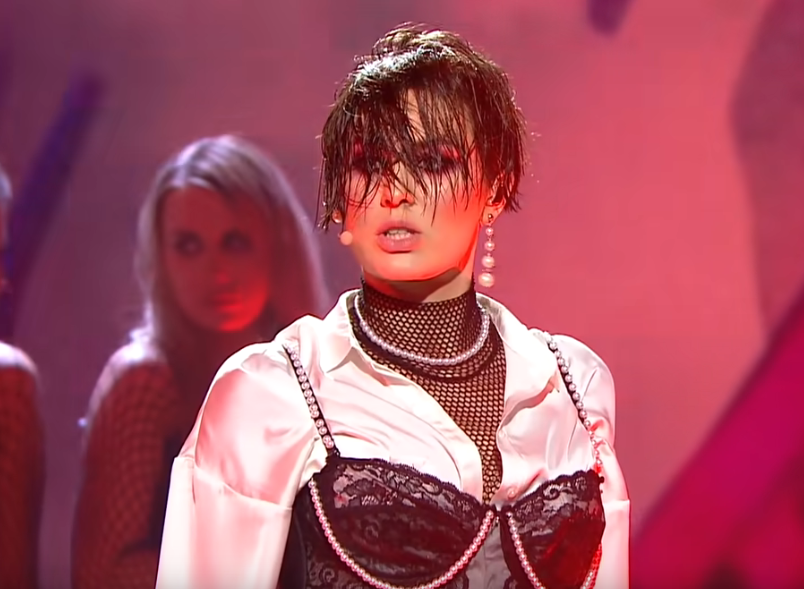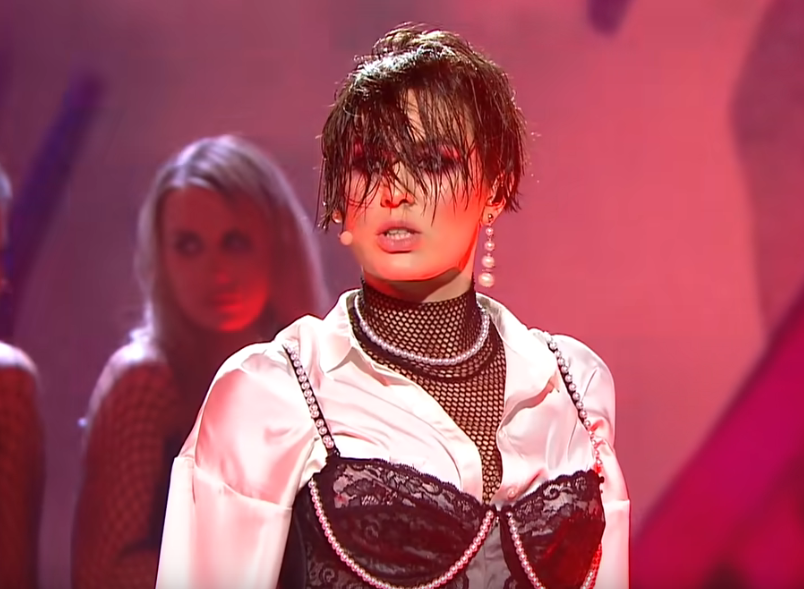 When Maruv won the Ukrainian national selection she became a fan favourite for many. And, of course, Ukraine's decision to withdraw from the contest came as a shock. Maruv herself was confident that, would she have participated in Eurovision, she would have finished "at least in the top three". Many fans agree with her.
For the Eurovision Song Contest 2019 the Ukrainian national broadcaster UA:PBC organised Vidbir 2019 as their national selection. The national selection consisted of two semi-finals and one national final. Eight acts competed in each semi-final with six acts making it to the final. On the 23rd of February 2019 Maruv won the televote and came in second place in the jury vote. This made her the winner of the Ukrainian national selection.
Everything was ready for Maruv to represent Ukraine. However, the signing of a contract between Maruv and the broadcaster became a huge problem. Maruv refused to sign her participation contract, alleging that she did not feel comfortable with the restrictions it included. The contractual agreement obliged her not to improvise on-stage. Furthermore, she would have needed a permission from the broadcaster to give interviews and did not include any financial compensation for her participation. Any breach of the contract would result in a monetary fine.
On February 25, two days after the national final, Maruv and UA:PBC announced that she would not represent Ukraine in Eurovision. Subsequently, the broadcaster approached the artists that came in second and third place to internally select them but they both refused. Therefore, Ukraine withdraw from Eurovision in February 27, 2019.
Siren Song – opinions from fans
In order to find out what Eurovision fans today think of this Ukrainian wishful entry from 2019, we asked our Eurovision Fan Panel. It includes team members as well as fans from all over the world.
🇬🇧 Ashleigh K. – What a drama Ukraine had in 2019. I was really disappointed that Maruv never got to send Siren Song to Eurovision. Her performance on Vidbir was very risqué and controversial and I think it would have made for some great Eurovision drama. I have no doubt Maruv would have given Ukraine a top 5 finish in the grand final, maybe even a top 3. We still talk about the Polish milkmaids and Maruv would have been Ukraine's equivalent. She'd have given us something to remember.
🇩🇰 Charlotte J. – I remember fans being so disappointed that Ukraine couldn't participate that year with this song. I am NOT one of them. Of course the circus around it put up by the Ukrainian broadcaster was disgraceful, but this song, I don't regret not seeing on the Eurovision stage. It's not my cup of tea at all, in fact, it makes me realise that I am getting older. This is too provocative for me.
🇬🇧 Mhairi O. – I really like Siren Song. It was by far the best Ukraine had to offer in 2019. I would like to think that MARUV would have been in the top ten but I guess we will never know.
🇨🇿 Josef S. – In the begining I wasn't a fan of Maruv's song. Only when the show was over and she was the winner I started to like it just to find out it will not go to Tel Aviv. Ukrainian broadcaster should find out about the history of participants before the show started and this could have been clear before the show even started. The affair that was around Ukraine 2019 was too big and I did not like that. I am pretty sure, that Maruv could be in top 3 in Tel Aviv, if she would have been allowed to represent Ukraine at ESC 2019. With Hatari in the same year, it could have been a very interesting mix of songs.
🇬🇧 Aaron S. – Maruv's Siren Song would have been my winner from 2019. It was such a great, electric, lively song and it's such a shame she never got to perform it on the Eurovision stage. This is one of the many really good songs she has produced, if anything I'm glad the national selection brought her to my attention as she's my most listened to artist of 2020 on Apple Music.
🇨🇴 🇫🇮 Álvaro S. – I was never a fan of this song and probably I will never be. But I can recognize that it has gained a status in the fan community. I think this would have ended in a good position in the show. In spite of not being thrilled for this song I regret the outcome of this selection. Perhaps the Ukrainian broadcaster should have been more clear about their rules from the beginning, and not kicking their own winner after their national selection took place.
🇷🇸 Milosav T. – In short: liked the song, hated the presentation. Instead of a classy and sensual choreography, she looks trashy and vulgar. Her limited vocal abilities (in what's really an easy song) don't help either. I am sure it would have done good at the contest, but over-sexualisation never fares well with me.
🇹🇷 Güneç G. – Another possible loss for Ukraine and Eurovision fans. I am absolutely positive that Maruv would have shaken the ESC stage if the Ukrainian broadcaster haven't made this decision to withdraw. I wouldn't be surprised if Maruv had won the whole thing.
🇬🇧 Michael O. – Well this one certainly caught the imagination at Vidbir. Now legendary, this would have taken Ukraine into the final, but as the 2019 results showed, that was the year of the song rather than the act. Still wished she'd been in Tel Aviv though.
Enjoy Maruv's performance from the Vidbir 2019 in the embedded video. Below the video, you can read more about her
Maruv – a mini biography
Anna Borysivna Korsun known by her stage name 'Maruv' is a singer and producer. She was born in Pavlograd, Ukraine in 1991. She participated in Season 4 of The Voice of Ukraine. In this show, Sergey Lazarev (Russia 2016 and 2019) was her coach. She participated in the 2016 Ukrainian national selection as part of the group The Pringlez. Their song Easy To Love which she wrote herself did not got to the final. The Pringlez changed their stage name to Maruv in 2016. From 2018, she has used Maruv as her artistic name as a solo artist.
In 2019 Maruv won Vidbir 2019. However, she could not represent Ukraine in Eurovision due to contractual differences with the Ukrainian broadcaster. In spite of this, she has expressed confidence in an interview on the potential of her act. In that interview, she said that if she had participated her song would have ended in the top 3 of the final. She also made some not so favourable comments about the current Eurovision winner. According to her, Duncan Laurence's performance was "mediocre" although his song was "great".
From 2020 Maruv has worked using the stage name Shlakoblochina. She has released five studio albums to date.