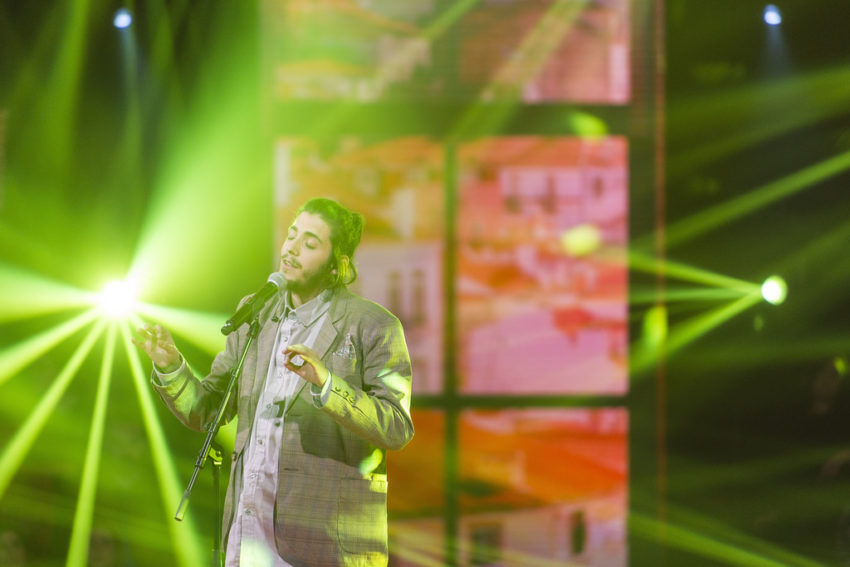 Tonight was the grand final of Festival da canção 2017, the national selection for the Eurovision Song Contest in Portugal. After eight acts competed, the televotes and regional juries picked Salvador Sobral with the song Amar Pelos Dois to represent Portugal in Kyiv.
After two semi-finals held on February 19th and 26th, tonight was time for Portugal to pick their entry for the Eurovision Song Contest at their national selection called Festival da canção. The eight acts who qualified during the previous semi-finals battled and here are some of the details of the night.
Also make sure to check out photos live from the final on our Instagram account.
The Songs
First up is Jorge Benvinda with his song Gente Bestial which translates to Serious People. The song is anything but serious, with some very colourful LED screens and outfits. The song itself seem more of a joke act than a proper joke when you don't understand the lyrics. Not a very catchy hook unfortunately.
A big change this year at Festival de canção is that any songs are allowed to be in sung in any language, and here we have our (only) English song of the night! Don't Walk Away is a very pleasant pop song and Pedro carries the song well. If this is to win, it would be the most current song Portugal has submitted in probably a very long time. Could it win Eurovision? Probably not, but it could qualify.
Third song is Lena with Nunca Me Fui Embora (I never went away). This is a very pleasant sounding song that doesn't go anywhere. It's a happy-go-lucky type of mood that is alright but doesn't win Eurovision. I can't this winning the national selection either.
Song number for is Salvatdor Sobral with Amar Pelos Dois (Love for two). This is a very old fashioned song sang in a very quirky way by Salvador. Somehow this should not work and should be really weird, but I don't know how, it just works. There is something that transports you somewhere else when you listen to his quiet soft voice. And by the public's reaction it seem like I'm not alone to this that.
Next up is Fernando Daniel with his song Poema A Dois (Poem for two). This is a ballad. However compared to some of the other ballads selected this year for Eurovision this seem like it has an authentic vibe. Fernando carries the vocals quite well with passion.
Celina Da Piedade – Primavera
The next song is Primavera (Spring) by Celina Da Piedade. With a much more traditional sound on this song. Right away you can tell Celina will bring that vibe with her flowers in her hair. The accordeon kicks in and you just feel like you're about to have your third beer at a local tavern. It's cute, but not a winner.
The next song is O Que Eu Vi Nos Meus Sonhos which means What I Saw In My Dreams. The song is a ballad beautifully sang by Deolinda Kinzimba. Overall though I'd say its quite forgettable.
The lat song of the night is Viva La Diva with Nova Glória. This is probably the most interesting song of the night in terms of being a bit different. It's an old fashion ballad but the singer is accompanied by two male opera singers.
The Show
Festival da canção is a huge deal in Portugal. The show begins with a proper red carpet moment with Portuguese celebrities talking about previous Eurovision songs and what to expect tonight.
The intro had some drummers on stage doing a countdown (or count up) from 1957 to 2017 as this is the 51st edition of the show.
What was interesting throughout the performances of the artists, the intro videos were more concentrated on the song writers rather than the performers, something that isn't quite as strong with other competitions.
The interval act had some artists come and perform previous Eurovision entries from Portugal.
The festival then gave a tribute to RTP, the broadcaster as this year celebrates 60 years.
The Results
After the jury gave their points, the televotes were tallied and the winner was announced to be:
Salvador Sobral – Amar Pelos Dois