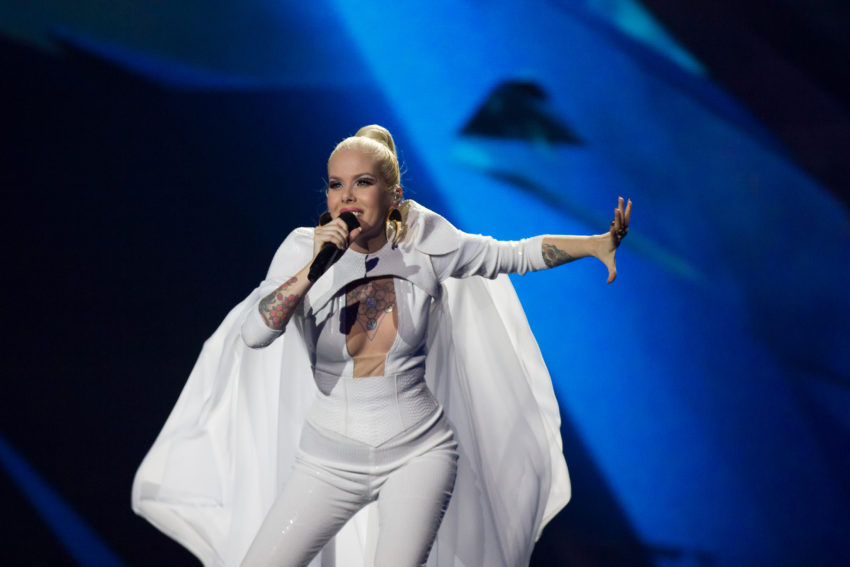 2017 began with high hopes for Iceland with Svala and her mid tempo pop – R&B song 'Paper'. That year, unfortunately the international viewers were not that impressed so the song failed to make it to the final. After 4 years, Eurovision fans discuss this entry and what went wrong.
Iceland used their traditional National selection system Söngvakeppnin. The selection process consisted of 2 semi-finals and a final, the latter on the 11th of March 2017. Six songs competed in each semi-final with the highest scoring three entries in each making it to the final. In addition to that, a wildcard from the non-qualifiers was selected. In the final, after the first round, the two super finalists were selected. They were Svala and Daði (Eurovision Icelandic hopeful 2020). Eventually Svala's Paper won with 50% jury and 50% televote.
At the Eurovision Song Contest in Kyiv, Ukraine, Svala took the stage 13th in line. After a powerful performance, she received 60 points, placed 15th, thus couldn't get the ticket to the final. Paper was written by Svala Björgvinsdóttir, Einar Egilsson, Lester Mendez and Lily Elise.
Paper – opinions from fans
In order to find out what Eurovision fans today think of this Icelandic entry from 2017, we asked our Eurovision Fan Panel. It includes team members as well as fans from all over the world.
🇹🇷 Gunec G. – I remember watching Söngvakeppnin in 2017, and I was really happy because Paper was the best entry there. Also in Kyiv, I thought Svala's performance was far good enough to make it to the final. I like the R&B voice games and the white costume was fantastic.
🇬🇧 Michael O. – I actually really liked this song but oddly for an experienced singer, Svala looked lost on the big stage. I still think it should have qualified to the final, but understand why it didn't make it.
🇩🇰 Charlotte J. – I didn't understand when Iceland picked this in 2017. Their national final that year was actually quite strong. I immediately knew Iceland had made the wrong choice, that Svala wouldn't qualify for the final, and it turned out, I was right. She sings OK, the performance is OK too, but everything is just 'ok-ish' without anything to lift it up. This was a disappointment from one of my favourite Eurovision countries.
🇨🇴 🇫🇮 Alvaro S. – I like this retro sound from Paper. Svala's performance and dancing, just using her white cloak as a prop was more than enough to keep my attention. It deserved a place in the final.
🇪🇸 Mária P. – I find it a pleasant song and very well performed. It's in my top 10 of 2017. Also, Svala's father, Bó Halldórsson, sang one of my favourite songs of 1995, so I can say I like this family's music. Maybe in Paper, I missed backup singers or dancers on stage, but I like it anyway. It was disappointing that it wasn't voted enough as to qualify for the final.
🇬🇧 Steve P. – Saying that Svala can consider herself unlucky not to qualify for the final wouldn't necessarily be an endorsement of the song, more of a reflection of the poor quality of the semi-final! I don't think I've heard the song since that night, and, to be fair it's slightly better than I remember; I thought it was below average then, and it has improved to sounding average now. One question, however, does remain; the footwear – why?
🇬🇧 🇬🇷 Melanie G. – This is such a well written anthem by a very talented artist when I originally watched this it gave me a superb vibe so all in all I'd say it's a banger.
🇫🇮 Martti I. – Svala is a talented artist, but this entry just wasn't in right place. The stage act wasn't the best possible either. Audience at home had difficulties to understand it, pity, maybe she will try again for Iceland.
🇨🇿 Josef S. – Yes, Svala – Paper… I was never a fan of this entry as I had another favourite song in Icelandic national final in 2017. Svala looks weird in her white costume and even the staging looks 'meh', even though the idea of laser lights is interesting.
Enjoy Svala's performance from the 2017 Eurovision Song Contest in the embedded video. Below the video, you can read more about her.
Svala Björgvinsdóttir – a mini biography
Svala Björgvinsdóttir (born 8 February 1977), professionally known as Svala, Svala Björgvins or Kali, is a celebrated Icelandic music artist. She is the daughter of Bó Halldórsson (Iceland 1995).
She began her career as a child singer in 1984. Over the years, she has been on many singles, albums, concerts as a part of a band or as a single artist. Her artistic breakthrough came in 2001 with her song The Real Me from her album with the same name. She adopted the name Kali after she joined the band Steed Lord. In 2012 Svala released her debut clothing line Kali which was sold exclusively on the webshop Lastashop. Svala designed four collections for her clothing line which sold very well.
In 2017, Svala represented Iceland at the Eurovision Song Contest with the song Paper. Unfortunately, she failed to reach the final.