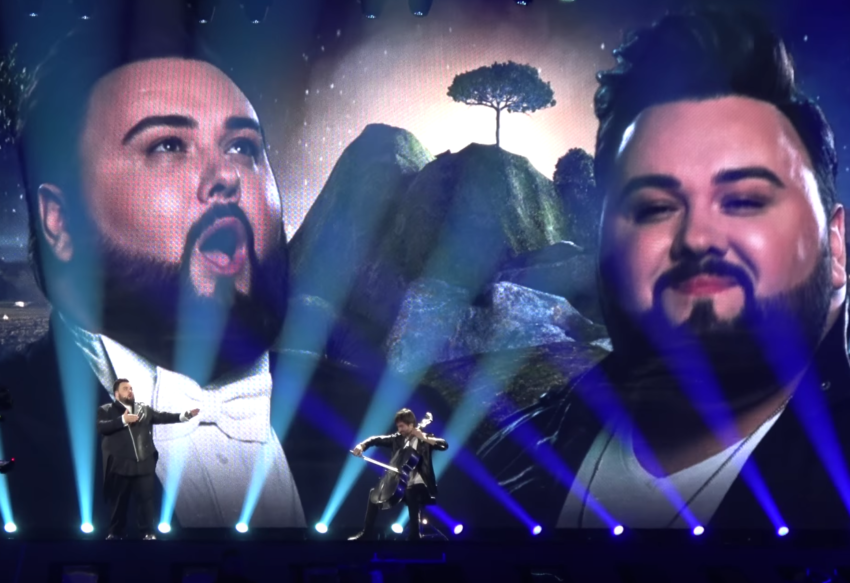 Jacques Houdek demonstrated his amazing vocal capabilities at the 2017 Eurovision Song Contest. His entry 'My Friend' is a song that stands out. To some Eurovision fans, it's a fantastic song while others just found it all a bit too weird.
Jacques Houdek was internally selected to represent Croatia at the 2017 Eurovision Song Contest. On the 17th of February 2017, Croatian broadcaster HRT presented him as their chosen artist. Three days later, they announced the title of the song My Friend, and finally on the 2nd of March, the song was released. Immediately upon release, Eurovision fans were mixed in their opinions as this something clearly stood out from the rest with Jacques singing two very different voices in the song. Basically, he sang a duet with himself.
At the Eurovision Song Contest, Jacques Houdek surprised the Eurovision fans once more. The performance of My Friend stood out with him alternating between the English and the Italian parts, and with a suit where the left and the right side were made to fit that version of Jacques. With 128 points, Jacques finished 13th. No countries gave him their maximum 12 points, but he did get the second highest 10 points from Austria, Hungary and Switzerland.
After the contest, he blamed Croatia's president for not offering him enough support. He also criticised the juries in the neighbouring countries for not being fair towards him. Aside from Montenegro, none of these juries gave him any points.
My Friend – opinions from fans
In order to find out what Eurovision fans today think of this Croatian entry from 2017, we asked our Eurovision Fan Panel. It includes team members as well as fans from all over the world.
🇩🇰 Liza P. – The first time I heard My Friend, I thought it was two people singing a duet. So I was very surprised to see, that it was only one man – singing duet with himself. Like Mihai Traistariu from Romania did in 2006. I think it's brilliant. Don't like the speaking part in the beginning so much, but the rest of the song is great. And I like that he has divided the jacket, so it's either leather or formal depending on which part he is singing. And there is no denying that he has a great voice, regardless if he is singing opera or pop. For me there was no doubt that he would qualify for the final. And I think 13th in the final was well deserved.
🇨🇿 Josef S. – I am glad someone pulled this one out as I really really love this song. A combination of pop and opera in one song is already a good move, but being it sung by one person is just perfect and shows how good performer Jacques Houdek is. And the happy performance with violin and cello players was really creative. This one is high on my list of Eurovision entries and I still love to listen to it from time to time. But I am afraid I am one of the few ones who likes it, which makes me a little bit sad.
🇬🇧 Steve P. – My first introduction to this song was seeing a Facebook post from my wife saying she didn't know what I'd think of it. When I heard it, even I didn't know what to think of it, so confused was I at what I was hearing. When I did eventually reach an opinion, it wasn't very favourable, I thought it was a total mess! However, with each hearing it grew on me, and now I appreciate the song for what it is – whatever that is, and I'm still not sure.
🇳🇱 Jacques H. – Is it possible to create an act more schizophrenic than Jacques Houdek's My Friend? I doubt it. First Jacques (what's in a name!) starts babbling his contribution. Babbling in a song contest, the horror! Then he continues in a horrible musical fashion to slip rapidly into an aria. I admit, I most like the opera parts, but I loath the swift changes between musical and opera. It's a musically impaired mishmash, or should I better call this a miss match?
🇩🇰 Charlotte J. – I say yes! This was one of my favourites in 2017. I loved this song from the first moment, I heard it – and seeing the performance, didn't change that. He did a great job, and I don't understand why this didn't become a top 5 entry. A fantastic song which by far is my favourite Croatian entry. I absolutely love it, and I still listen to it from time to time.
🇨🇴 🇫🇮 Alvaro S. – Jacques is a very talented singer and has a gifted range. The song is really good so the only negative thing I would say is that Jacques with all this "double personality" show looked to over the top for me. He really did not to need to demonstrate us that he can easily switch from a tone and almost a totally different genre to another. It makes it look weird even if it is a good type of weirdness.
🇧🇦 🇩🇰 Elvir P. – Jacques Houdek has a powerful and versatile voice, but the kitsch song My Friend is definitely not my cup of tea. The changing between the opera voice and the high-pitched pop parts don't sound pleasant at all, the lyrics are very cliché and the song itself goes nowhere and is merely used to show off his vocals.
🇬🇧 Michael O. – I actually like the song and after Eurovision saw him perform it with an opera diva, and it was amazing. The staging was great, the musicians were fine, but the whole two voices thing turned it into the joke it didn't need to be.
🇮🇪 🇦🇺 Vivienne F. – What a splendid song and singer for a magnificent year! What a gift Jacques has, and I was so enamoured by it. It was happy, touching, joyful. The violin and base and that explosion 💥 of life was just amazing in the middle of the song. Towards the end as he sang one of the 'my friend's I felt the emotion building in my throat as I thought about my dear Father who had a tenor voice and passed away in 2001, I had goosebumps and a tear in my eye. It was definitely in my top 10, and if it had won I wouldn't have been surprised. I had my two favourites, and then I had My Friend and six others as equal. I just couldn't choose, I still can't.
🇲🇹 Luke B. – Jacques is a great singer and I admire him taking the lead in two different vocals. But unfortunately, the song does nothing for me. It's outdated, cliché and nothing different from the rest that makes me want to vote for it. On the other hand, I felt that Jacques was rather awkward throughout the performance… jumping up and down on his toes. Nevertheless, still a great vocal performance for a rather dull song.
Enjoy Jacques Houdek's performance from the 2017 Eurovision Song Contest in the embedded video. Below the video, you can read more about him.
Jacques Houdek – a mini biography
Born in 1981, Jacques Houdek, was 20 years old when he started at the Berklee College of Music in Boston, USA. His first single, Čarolija, came out in 2002 after having been performed at the national final of Dora. After that, he scored his first record deal, and from then on, there's no stopping. Jacques had a great voice, and it had been recognised.
He has provided singing voice for Aladdin, and also done songs for political campaigns. He describes himself as apolitical and just saw it as engagements. That is further backed up by that he did campaigns for two very different parties.
For the 2017 Eurovision Song Contest, Jacques was internally chosen to represent Croatia, and despite his fantastic voice, he 'only' scored a 13th place. He remains being a popular artist in his home country, and his albums have sold quite well. Next to his own career, he found time to help others, and have been a mentor in The Voice where he had winner Nina Kraljić under his wings. After that, she moved on to represent Croatia at the Eurovision Song Contest.
In 2006, Jacques married Brigita Krka and together they have two children.