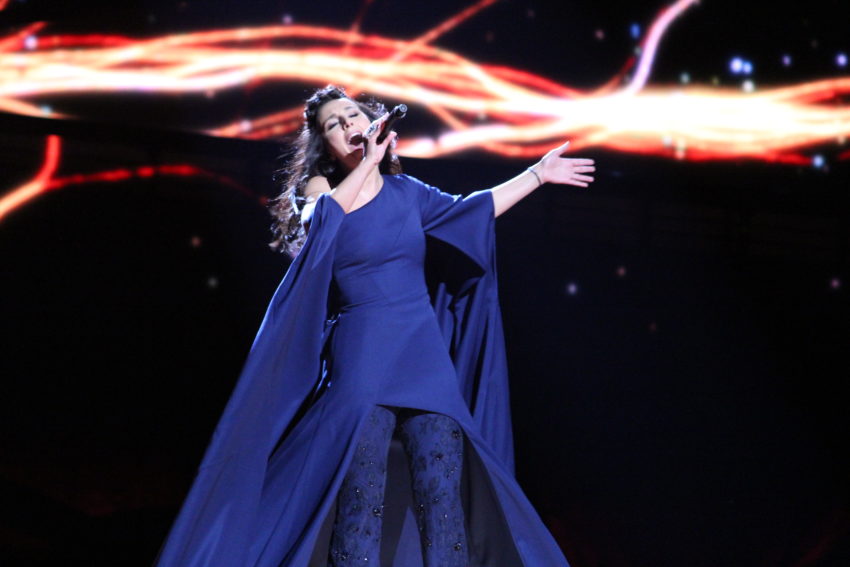 Ukraine has been successful at the Eurovision Song Contest. They won the contest in their second participation, and repeated it again later. Too political or not, Jamala won in 2016 with the song '1944'. To this date, fans are still very mixed when it comes to this entry.
In 2016, the Ukranian broadcaster NTU and commercial broadcaster STB joined forces to organise a selection process  for the Eurovision Song Contest. After two semi-finals that took place on the 6th and 13th of February 2016, the final was held on the 21st of February 2016. Six entries (three from each of the semi-finals) took the stage hoping to represent Ukraine at the Eurovision Song Contest. 1944 by Jamala who is of Crimean Tatar descent was selected to represent the country in Stockholm, Sweden. The song was basically a lament about Crimean Tatars who were brutally deported by dictator Stalin in 1944. Jamala's grandparents were among those victims. After various controversies, 1944 was confirmed as the Ukrainian song for Eurovision 2016.
In Stockholm, Jamala competed in the second semi-final and took the stage 14th in line. She received 287 points and finished second. After a heart shaking performance in the final, she had earned a total of 534 points from the international jury and televotes. That was enough to secure her the victory.
1944 – opinions from fans
In order to find out what Eurovision fans today think of this Ukrainian entry from 2016, we asked our Eurovision Fan Panel. It includes team members as well as fans from all over the world.
🇬🇧 Michael O. – The first time I heard this at the national selection, I knew it would win. Same thing at Eurovision, you can tell she means every word. A well deserved win.
🇷🇴 Doina A. – What a strong, powerful song. This is all power, flames, tears and emotions… The lyrics helped the flowing melody to be more dramatic. Sadness is entering the hearts of the listeners while hearing this song. The performance was great, and it was the right winner.
🇳🇱 Jacques H. – It baffles me how many people like this song. It does nothing for me. I don't like the singing, I don't like the song. It just doesn't appeal to me. Besides the quality of the winner, I don't understand how this got accepted by Eurovision's rules of 'no politics'! It is so obvious an indictment of Russian domination and aggression, wrapped in an historical narrative within a 2016 context. And that is the only good thing about the song. But hey, no politics please at the Eurovision Song Contest!
🇩🇰 Charlotte J. – I didn't like it back then, and I still don't. In order to write this opinion, I did listen to it again, but unfortunately, it's not a song that appeals to me at all. Political? Yes, I do consider it political, but we all know by now that EBU's rule about politics in the songs gets interpreted in various ways depending on the country and the situation. In 2016, it was 'in' to be on Ukraine's side. My opinion about the song is not in favour of any country though. No matter who had sent it, I wouldn't like it.
🇹🇷 Gunec G. – Jamala mesmerised me with her performance which reflected her strong emotions. The light games on stage helped her theatrical voice show. I absolutely think it was a deserved winner. And I remember singing the Turkish chorus at the Euroclub in Stockholm with my friends. It was an unforgettable moment for me.
🇬🇧 🇹🇭 John E. – Back in 2016 I did not really appreciate this song and I found it to be a surprise winner. Over time, it has grown on me especially as I began to understand the backstory of the song. Jamala sang with such emotion and the staging was simple yet memorable. Yes the song has a political theme, which some may considers inappropriate for the Eurovision Song Contest, but I re-listened after the contest and now consider it a worthy winner. I have been less impressed though by some of her comments to following entrants in the Ukrainian national selections.
🇨🇿 Josef S. – I still remember the day when I heard 1944 for the first time. I knew Jamala already but this was and still is a pure magic of true music. Let's keep aside the meaning behind the lyrics, but we should focus on the music only. It's perfect. Only Jamala can share her deepest emotions and mourning in a 3-minute song. I just love it, and it will stay one of my favourite Eurovision songs ever. ❤
🇲🇹 Luke B. – Ukraine 2016 is an example that Eurovision is shifting from its traditional commercial winning formula to keeping it more simple and emotional. I remember back in 2016 being absolutely gutted that this song won over the more ear friendly songs of Australia and Russia. Don't get me wrong, it still is a good song, Jamala is a GREAT singer and the performance was brilliant. However, even to this day, it still does not strike totally a chord with me as much as other similar genre Eurovision songs did, Albania 2012 case in point.
🇩🇰 Alberte B. – I was so disappointed when this song won. I didn't think 2016 was a very strong year in general at the time. But it has really grown on me. It's such an emotional and powerful song, and the imagery with the tree is so gorgeous. Jamala is a very talented singer whom I have come to like and respect since her victory.
Enjoy Jamala's performance from the 2016 Eurovision Song Contest in the embedded video. Below the video, you can read more about her.
Jamala – a mini biography
Susana Alimivna Jamaladinova aka Jamala was born on the 24th of August 1983. She represented Ukraine in the Eurovision Song Contest 2016 with 1944 and won the contest.
Majoring in opera singing, she graduated from the National Music Academy in Kyiv. Just as she thought, she would make a classic music career, in summer 2009, Jamala went to The New Wave in Latvia. She won the grand prize, and a whole new career started.
Her professional musical career began in 2010 and to this date, she has released several singles and albums. After her victory in 2016 she was nominated as a UNICEF Goodwill Ambassador by the Ukrainian government. She was also awarded as the People's Artist of Ukraine by the Ukrainian President Petro Poroshenko. For the national Vidbir selection  in Ukraine, she was a jury member in 2017, 2018 and 2019.